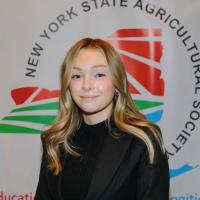 Internship Student, Agricultural Business Development B.B.A
Emma will complete a 12-week formal internship this summer with Farm Credit East in Burrville, New York.
In her position, Emma will work closely with many different offices within Farm Credit East, learning about  financial services, crop insurance, appraisals and agricultural lending.
She will also travel to Enfield, Connecticut to receive formal training with other college interns from the Northeast. During her internship, she will be assigned a special project and later present its results to senior management.
Emma will graduate with her bachelor's degree in agricultural business in December 2022. Her future plans are to secure a career with Farm Credit East.