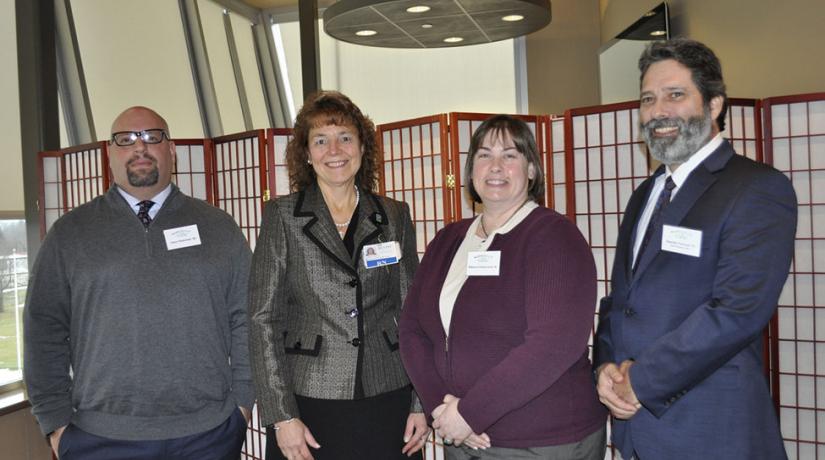 Whether you are looking to engage with fellow alumni, connect with students or volunteer within the greater SUNY Morrisville community, there are many opportunities to get involved. Below are opportunities both on and off campus to stay connected with SUNY Morrisville and make a positive, lasting impact.
Alumni Mentoring Program
The SUNY Morrisville Alumni Mentoring program brings together alumni and students for mutually beneficial career advancement and network building.
Mission of the Alumni Mentoring Program
The mission of the program is to foster a culture of mentoring at SUNY Morrisville that encourages productive conversations around academic, professional and life goals to encourage student enrichment and expand alumni engagement.
The program begins in the fall semester with a welcome event and concludes in the spring with a closing dinner. All participants are asked to commit to one to two contacts per month, in person or online.
Forms for Mentors
Sign Up Form  Mentor Handbook  Agreement Form
Forms for Mentees
Career Connect Series
The Career Connect Series is a program of networking events that offer alumni the opportunity to share career experience with one another and offer career insight to Morrisville students.
Chapter Events
Would you like to host an alumni event in your community? Do you know how many Mustangs live in your area? Chapter events are small gatherings of alumni living in close communities with alumni hosts. These events can be cocktail receptions in your local restaurant or bar, small parties in the home of an alumni, or anywhere Mustangs come together. Even better, we will provide the party pack and do all the legwork for you.