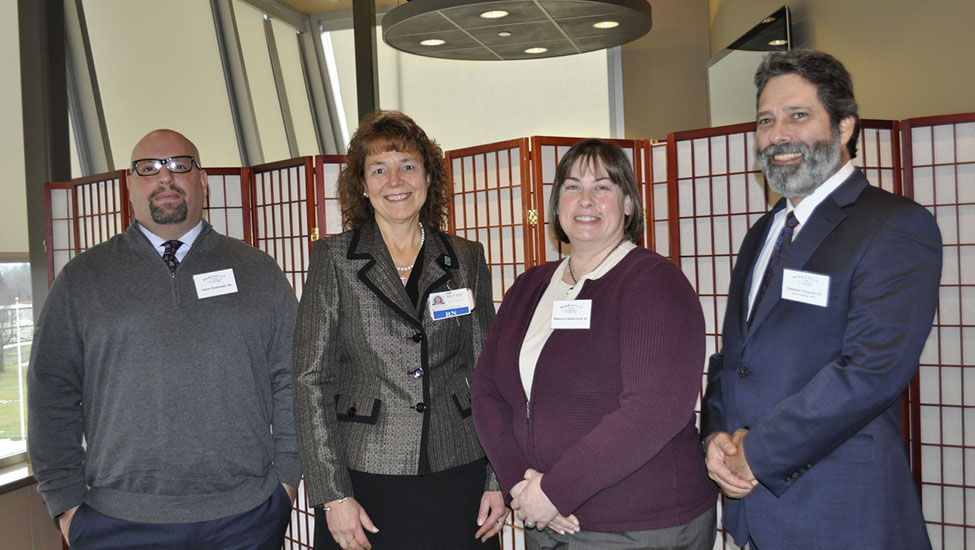 Whether you are looking to engage with fellow alumni, connect with students or volunteer within the greater SUNY Morrisville community, there are many opportunities to get involved. Below are opportunities both on and off campus to stay connected with SUNY Morrisville and make a positive, lasting impact.
Alumni Mentoring Program
The SUNY Morrisville Alumni Mentoring program brings together alumni and students for mutually beneficial career advancement and network building.
Mission of the Alumni Mentoring Program
The mission of the program is to foster a culture of mentoring at SUNY Morrisville that encourages productive conversations around academic, professional and life goals to encourage student enrichment and expand alumni engagement.
The program begins in the fall semester with a welcome event and concludes in the spring with a closing dinner. All participants are asked to commit to one to two contacts per month, in person or online.
Forms for Mentors
Sign Up Form  Mentor Handbook  Agreement Form
Forms for Mentees
Career Connect Series
The Career Connect Series is a program of networking events that offer alumni the opportunity to share career experience with one another and offer career insight to Morrisville students.
We arrange three Career Connect events each academic year which include a panel of three to four alumni from various industries and cover a wide variety of topics. Previous event topics included exploring careers in the healthcare industry, what it takes to be a manager or business owner, and what can you do with your degree? In addition to the panel discussions, each event offers an opportunity for open networking in an informal setting over refreshments.
 If you are interested in participating in a Career Connect event, please email Rhiannon Da Cunha, Alumni Engagement Coordinator.
Alumni Ambassador
With our busy schedule of events and programs, we are always on the look-out for alumni volunteers to join our team as ambassadors and connect with fellow alumni in your communities and beyond. Alumni Ambassadors reach out to other alumni, attend and host events, assist with fundraising campaigns, and most importantly, make a lasting impact on the Mustang community.
Become a member!
The Leadership Circle: Supporting Morrisville at the leadership level
Members of the Leadership Circle are individuals who make a total gift to Morrisville of $1,000 or more in a fiscal year. The gifts of these generous alumni, parents and friends comprise over 95% of all funds raised each year.
Graduated giving levels are available for our most recent alumni, enabling all to participate:
 1-5 years past graduation: $250
 6-10 years past graduation: $500
SUNY Morrisville Virtual Book Club
Join the SUNY Morrisville Virtual Book Club. An online community for alumni, faculty and staff to connect with each other and promote lifelong learning through books on social issues, life experiences, history and more. All you need is an email address and your own copies of the books to join.
Chapter Events
Would you like to host an alumni event in your community? Do you know how many Mustangs live in your area? Chapter events are small gatherings of alumni living in close communities with alumni hosts. These events can be cocktail receptions in your local restaurant or bar, small parties in the home of alumni, or anywhere Mustangs come together. Even better, we will provide the party pack and do all the legwork for you.
Nominate yourself or someone else to join the SUNY Morrisville Alumni Board or the Morrisville College Foundation Board by contacting alumni@morrisville.edu.