Think farming is old-school? Think again.
Whether you want to bring the family farm into the next generation or be a player in the global markets, studying agriculture at SUNY Morrisville is a smart choice.
Agriculture is at the heart of what SUNY Morrisville does best. It is our past, present and future, so we have spent a lot of thought and practice to learn what works best and help students build the world they want for themselves.
Whether you are interested in fruits and vegetables, milk and meat, tractors and tools, flowers and plants, or business and trade, we have the right agriculture program for you.
With choices in agricultural business, agricultural engineering technology, agricultural mechanics, agricultural science, animal science - dairy, dairy management, horticulture, horticulture business management, diesel technology and landscape design & management, you will find the right "field" to explore your own field of interest.
Technology is transforming every aspect of our lives and agriculture is no exception. Don't just learn, but practice how to sustainably make a living through the land with climate-smart approaches. You can build your own livelihood while you improve those in your community.
---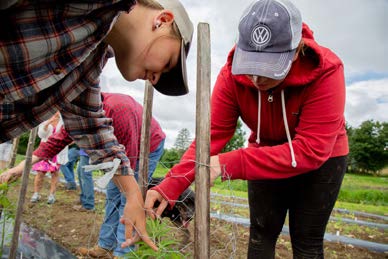 Now Offering an Agricultural Human Resources Management Minor!
This minor provides students with an understanding of the many aspects of human behavior in the workplace of production agriculture. A wide range of topics including labor laws, human resource management, hiring, developing, training and retaining employees, workplace psychology, policy development, and leadership are covered within this minor. Specific emphasis is placed on H2A (agricultural work visas), seasonal, and migrant employees. Housing, OSHA, labor, and Workers Compensation Audits will also be covered. This minor requires 15 credits, with at least 9 credits hours in the upper-division.
---
Cultivate a successful career. Know not just where your food comes from, but how to plant and nurture it before harvesting and distributing it to a thankful community. Season after season, our faculty and staff work diligently with you to see that process through for all to enjoy the fruits of their labors.
Be a vital part of the fabric of everyday life. Learn how you can empower people through nutrition and be entrepreneurial in connecting communities and the world through food and trade.
Come plant and harvest your future at Morrisville. You will be more than ready. You will be experienced, allowing you to contribute to one of the three largest sectors of the American economy and have a greater opportunity to impact the world and everyday lives through implementing fresh ideas.
Alumni, Agricultural Business Development B.B.A.
For our Women in Agriculture Business series, alumna Katie Schultes visited the SUNY Morrisville campus to talk to us about her exciting career as a woman in ag business. Katie is currently a Branch Operations Associate for Farm Credit East in Cooperstown, NY.
Facilities
The best textbook is the real world.
SUNY Morrisville proudly maintains approximately 1,000 acres of farmland, managed plantations, farm ponds and farm wood lots for instruction in conservation, botany, wildlife, and landscape development and maintenance.
We boast specialized facilities for dairy, agronomy, agribusiness, agricultural engineering and horticulture that all feature industry-standard equipment, ensuring that you'll learn by doing and gain true-to-life experiences during your time on campus.
A National Leader in Cannabis Studies
Ready. Set. Grow!
SUNY Morrisville is excited to be at the forefront of educating students on the cannabis industry, one of the fastest-growing sectors of the horticulture/agriculture industry in New York State and nationwide.
After launching a special project learning opportunity during the Spring 2019 semester that explored the growing methods of cannabis, SUNY Morrisville has begun offering a Cannabis Industry minor.
One of the first of its kind in New York State, the Cannabis Industry minor provides students a vast understanding of the cannabis industry by combining portions of our agricultural science, horticulture and business programs. It also allows students the opportunity to focus on specific areas of interest, including:
cannabis botany
production and processing techniques
marketing capabilities and evaluations
As SUNY Morrisville also continues to pioneer the revitalization of industrial hemp in New York State, similar teaching concepts will be implemented into the 15-credit Cannabis Industry minor curriculum. Hemp plants, which are very similar to the marijuana plant but lack the levels of THC that cause psychoactive effects, will be used to study cultivation techniques.
Learning will take place year-round, thanks to the indoor growing capabilities at our Controlled Environmental Agriculture (CEA) greenhouse featuring various hydroponics systems, as well as at our certified organic Four Seasons Farm.
Our Horticulture Center also features a wide variety of amenities, including tissue culture labs and grow rooms. And best of all, hands-on instruction is taught by our expert faculty members.
While being open to all students, the Cannabis Industry minor aligns perfectly with students pursuing bachelor's degrees in horticulture, agriculture and natural science.
Clubs, Activities and Competitions
In addition to a unique education and outstanding facilities, SUNY Morrisville also provides a variety of related clubs, activities and competitions to further cultivate your experience.
The Agricultural Engineering Club promotes student involvement throughout the year, including the antique tractor and machinery show during Mustang Weekend and an annual spring field trip.
Collegiate FFA, established to broaden the interest and knowledge of students in the field of agriculture, provides its members with a learning environment outside of the classroom. Annual events include the National Ag Day celebration, a weekend trip during the fall semester and support of the National Post-Secondary Agricultural Student Organization (PAS).
Through our Dairy Club, you will extend your knowledge of the dairy industry by participating in activities like the annual Autumn Review Sale, dairy judging and field trips. Club members participate in learning, leadership and social activities while interacting with other students, faculty and industry representatives from across the Northeast.
The SUNY Morrisville Horticulture Institute provides members with a spectrum of activities, including field trips, volunteer work on community and campus projects, and fundraising efforts. You will be involved with the marketing and sales of services and products such as plants and flower holiday arrangements, while having the opportunity to visit local landscape businesses, nurseries and garden centers, as well as botanic gardens, arboreta and flower shows in Philadelphia, Boston and New York City.
Our Livestock Club allows you to explore a range of species through husbandry with the college's animals on campus and also travel to nearby farms. The club sells a range of products to Morrisville's Copper Turret Restaurant and directly to consumers to sustainably support its activities.
Morrisville Fresh, supported by our Agribusiness Center, is our student-operated organization that provides members with the opportunity to design, plan, market and distribute several value-added food products through the college's small-scale food incubator, Nelson Farms.
Additional activities:
Dairy Judging Team
National Ag Day
Spring Showmanship Contest
Northeast and National Dairy Challenges