Inspiring entrepreneur selected as a Forbes Next 1000 honoree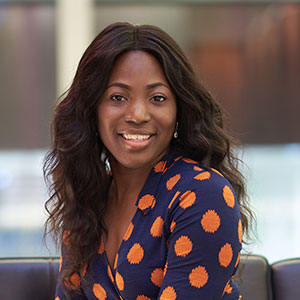 There's no stopping SUNY Morrisville alumna Sheneya Wilson. The Class of 2013 accounting graduate joins notable entrepreneurs from around the country in her selection to the inaugural Forbes Next 1000 list.
Wilson, 26, who refers to herself as a serial entrepreneur and "The People's CPA," is a certified public accountant, real estate investor and financial educator. She is the founder and CEO of Fola Financial LLC, a firm dedicated to assisting individuals and businesses with navigating their financial journeys by providing bookkeeping, tax planning and tax preparation services.
Wilson also is the founder of the Tax Essentials Learning Program (T.E.L.P), where she educates aspiring tax professionals on the tax code and teaches them how to build their own tax practices. Her expertise has been recognized in various publications including the New York Times, CNBC, Sheen Magazine and Forbes. She also serves as a tax expert on the Business Insider Tax Review Board and is a Forbes 30 Under 30 Scholar.
An active public speaker who enjoys sharing her experiences and knowledge to empower others, she also is the co-founder of My Successful Sistah Inc., an organization that hosts an annual event called "Cap N Crowns," where young women are celebrated for their educational accomplishments with a celebration ceremony.
Casino gaming industry leader named in "40 Under 40" Class of 2021
While he was studying information technology at SUNY Morrisville, Marvin Phillips also was honing his skills as a summer analyst intern at the Akwesasne Mohawk Casino Resort (AMCR). It turned into a passionate career for the now director of information technology, at AMCR, who was named to The Emerging Leaders of Gaming's "40 Under 40" Class of 2021.
The "40 Under 40" recognizes young leaders who play a pivotal role in the casino gaming industry. Sponsored by The Innovation Group, the award is dedicated to shaping and propelling the gaming industry by influencing strategy, technology and the leaders of tomorrow.
Phillips is responsible for the AMCR's information technology infrastructure, leading a team that develops the cybersecurity and technology strategy for the Saint Regis Mohawk Tribe's gaming operation.
His role is integral to the long-term strategy of the casino, ensuring that the company's business plans are supported through technology by establishing direction and executing the implementation of a portfolio of marketing, guest relations, operations and next-generation gaming products.
Phillips also has an associate degree in gaming casino management from SUNY Morrisville.