There were smiles of joy, relief, elbow bumping, physically distanced selfies and Mustang Pride was in full swing as SUNY Morrisville graduates celebrated scaled-back, in-person ceremonies in lieu of a traditional commencement this year.
The separate indoor ceremonies, which all followed New York State and Health Department guidelines, balanced safety and tradition, allowing graduates to put some normalcy back in their lives following COVID-19 restrictions, which forced a virtual commencement ceremony in 2020.
Seven in-person academic celebration ceremonies were held across three days, with the Norwich Campus also holding a drive-thru commencement to honor its graduates. All SUNY Morrisville graduates from the Class of 2021 also were invited to be a part of the college's virtual ceremony, which aired live via YouTube May 22.
President David Rogers was among those who commended graduates. "The world is waiting for you graduates — and there is a lot you can offer. We can't wait to see what you do."
Philip Hofmeyer, who heads the environmental and renewable resources division, also offered advice at one of the ceremonies.
"As you move through the next phases of your life, I expect someday you will look back on your time here and realize that SUNY Morrisville is an important part of your life story," he said. "…it is important to remember that SUNY Morrisville is a family. I continue to embrace you as family members, and I am excited for the great opportunities in your future."
Among this year's graduates are some staying to pursue four-year degrees, while others are starting exciting careers.
Here is where some of our graduates are headed:

Agnes Olson fulfills dream of becoming a wildland firefighter
While many of her friends were preparing for graduation celebrations, Agnes Olson was reporting for duty at the Powell Fire Crew Station in Idaho.
She's working for the United States Forest Service as a wildland firefighter, a dream job that SUNY Morrisville put within reach.
The Nez-Perce Clearwater National Forest at the Powell Ranger Station, where she is located, is a heavily timbered area that sees its share of fires. She will be part of a team that fights them, performs controlled burns for at-risk areas and searches for hot spots.
"Fires are a concern especially because the western United States is in a bigger drought currently than they were a year ago and this fire season is predicted to be just like last year, if not worse," Olson said.
On top of her work duties, she will be evaluating the effects of fire on the local ecology and developing maps that track fires by different sources and cover types, to fulfill internship requirements for her bachelor's degree in environmental & natural resources management.
The free-spirited New Berlin, New York, native set her sights on SUNY Morrisville because of its hands-on learning and because it offered everything she needed to pursue a career as a wildland firefighter.
In addition to applied learning and training, professors helped open many doors for Olson, who obtained numerous certifications, including NYS logger, CPR and AED, wildland firefighter, and erosion and sediment control.
Along with the six-month supply of clothes and personal items she packed in a suitcase, she tucked in myriad memories from a college that offered her more than she ever imagined, including leading its Woods Sports Team.
A bunkhouse, which is on the fire station grounds, serves as her home for the duration of her stay in Idaho.
"I feel very honored to be doing this line of work," Olson said of her new post. "I am very excited for this opportunity."
Olson received an associate degree in natural resources conservation before obtaining a bachelor's degree in environmental & natural resources management.

Amato twins follow their own path after graduation
It was no surprise when Alex and Justin Amato unknowingly showed up for their academic graduation ceremonies wearing similar shirts. The 19-year-old twins have shared nearly everything in their lives — a bedroom and toys, played on the same ice hockey teams, and recently added one more common experience — graduating from SUNY Morrisville.
While they are pursuing different paths, SUNY Morrisville gave them the chance to stay connected at college and to find careers doing what they love.
Alex graduated with an associate degree in automotive technology and is a technician at a Ford-Lincoln dealership in Queens, New York, where he has worked since 2019. Justin graduated with an associate degree in residential construction and is an electrician at Lippolis Electric, Inc., in Westchester County, while also working toward obtaining his electrician's license.
Their childhood goals — Alex wanted to be a school bus driver and Justin, a train conductor — changed considerably through the years, but when it was time to decide on a college, their decision to attend SUNY Morrisville was solid.
"It offered both of us exactly what we wanted," Alex said. "I have always had a passion for cars and Morrisville's (automotive) program is one of the best in New York State."
Morrisville immersed both brothers in hands-on learning while giving them a chance to hone interests and broaden their skills in many areas. Alex expanded his experiences working in the college's autobody building and Justin took on woodworking and electrical courses.
"We both learned really well from the hands-on labs and the diversity of the students at SUNY Morrisville made it very unique," Justin said.
"My ultimate goal is to continue working at Ford and also build custom cars — and build them to be fast," Alex said.
"My ultimate career goal is to have my name big enough where people will say oh, that's Justin Amato. I want to have my electrical license and become a general contractor and invest in real estate, commercial and residential, with Alex," Justin said.
"Justin and I have some great memories from SUNY Morrisville," Alex said.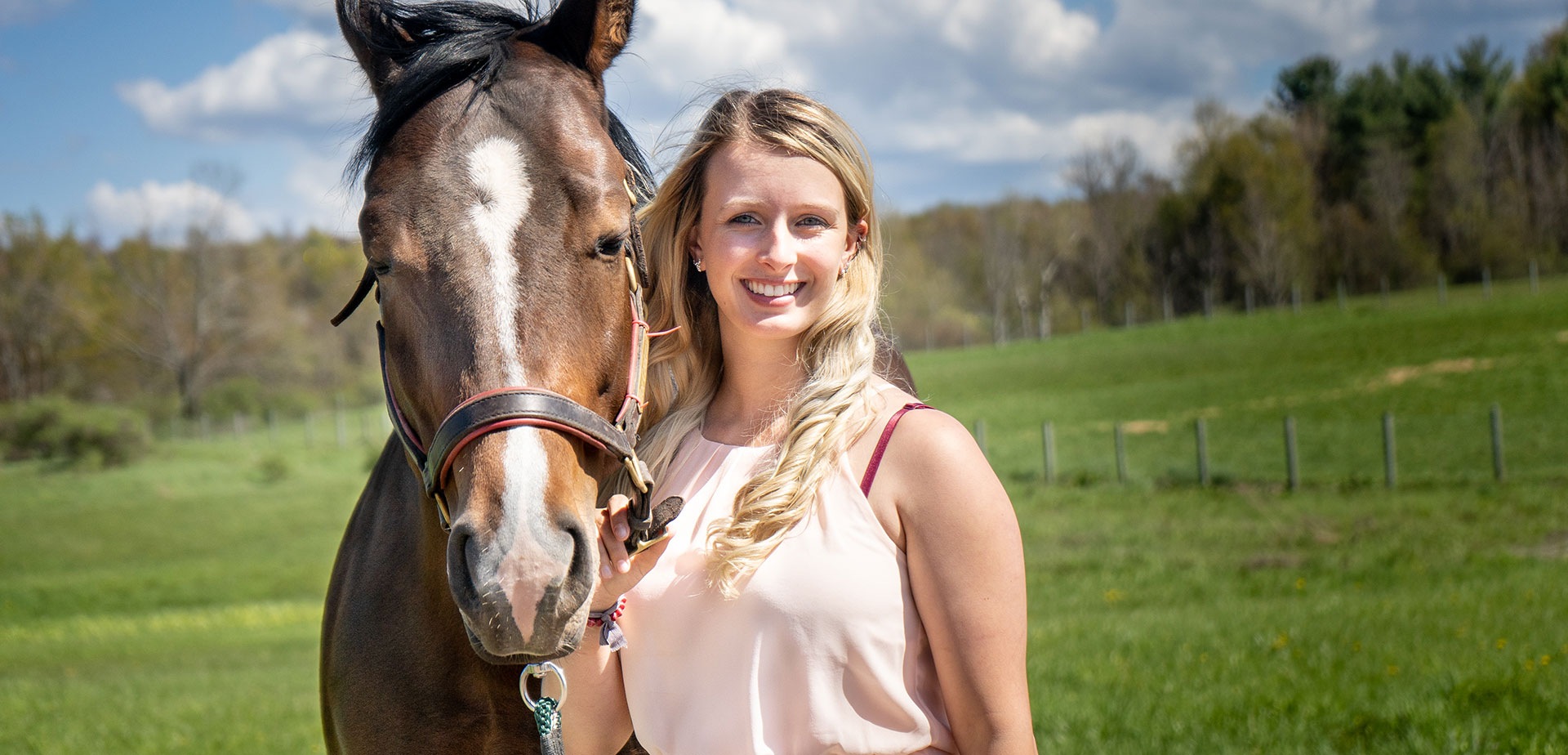 Big steps ahead for equine graduate
When she was in fourth grade, Grace Wight convinced her parents to let her take riding lessons. As her fascination and love for horses grew, so did her desire to learn about and care for them. She enrolled in SUNY Morrisville's equine program — a decision that led to an impassioned career.
"This is bittersweet. I am going to miss everything about Morrisville, but big steps are ahead," Wight said after she received her bachelor's degree in equine science, with a concentration in equine rehabilitation & therapy.
She's already on to her next journey, working as a veterinarian assistant at Montana Equine Medical and Surgical Center, in Montana, while also pursuing her license as a veterinarian technician.
"I came to Morrisville from New Hampshire, knowing I wanted to help horses and Morrisville had the best equine rehabilitation program," she said of her college choice.
The college's diversified equine program gave her a look at different aspects of the industry, beginning with earning a two-year degree in equine science & management, where she learned about Reining and Western Pleasure before going on to the four-year program for equine rehabilitation & therapy.
Two enriching internships broadened her horizons, one at the college's Western barn and the second at the Montana Equine Medical and Surgical Center, which offered her a job following her internship. The center is a private veterinary hospital and practice dedicated to high-quality diagnostic and therapeutic care of horses, ponies, mules and donkeys.
"I used my (second) internship as a chance to get my clinical experience and found I could use my equine rehabilitation experience in that, too," Wight said.
She credits a hands-on equine program and professors with paving the way for all she has achieved. "They are so knowledgeable and are always thinking of each student as an individual."
There were four-legged lessons, too. "Every horse helps you and teaches you something different," said Wight, who credits Lena, a paint horse with extraordinary patience, with introducing her to Reining and Western Pleasure. The pair took top wins in various contests and competed together on the college's riding team.
In her new role at the Montana Equine Medical and Surgical Center, Wight joins a highly trained staff known for offering some of the most advanced therapies and diagnostic equipment.
"Morrisville provided me with everything I needed — a solid foundation and the background I needed to further my career and make all of this possible," Wight said.

Norwich Campus celebrates graduates
The SUNY Morrisville Norwich Campus celebrated commencement with a drive-thru ceremony. As graduates circled through the parking lot, they were greeted by faculty and staff cheering them on and waving signs lauding their accomplishment.
Among graduates was the first cohort of nursing students from the college's partnership with Bassett Medical Center, a program started in 2018 to boost primary care in vulnerable communities.
The RN primary care training program supports licensed practical nurses (LPN) interested in becoming Registered Nurses (RN), while continuing to work in Bassett's centers. The Norwich Campus is one of four nursing institutions involved in the first phase of the program, aimed to increase access to primary care in underserved communities served by Bassett.
Students were enrolled at SUNY Morrisville for a total of three years, while maintaining a full-time work schedule and attending classes, primarily part-time, to earn their nursing A.A.S. degree. Courses were offered at the Cooperstown Bassett facility, online, on-campus and on the weekends to accommodate student work schedules.
Throughout the training program, students had a personalized approach, which included individualized intake sessions with admissions, advising and financial aid.
The program is made possible through a U.S. Health Resources and Services Administration (HRSA) grant, which covers tuition and fees.