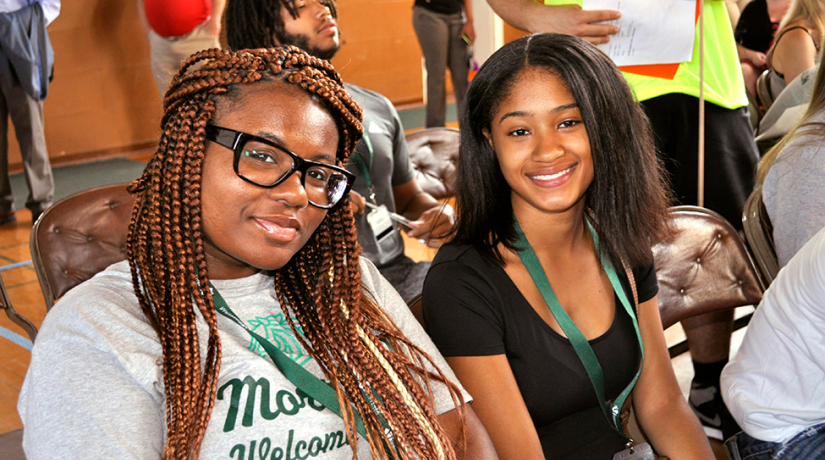 Morrisville operates on rolling admission and accepts applications for both fall and spring semesters. For more information contact the Office of Admissions.
Admission requirements
GENERAL
A minimum high school GPA of 70 required.
Certain academic programs require a GPA of 75 or above. Please contact the Office of Admissions for more information on specific requirements.
Final high school transcripts
To apply, submit
A completed SUNY Application or The Common Application.

There is a $50 non-refundable and non-transferable fee for each application.
Students facing financial hardship may have the fee waived by submitting a Fee Waiver Form.

Official high school transcript or GED/TASC scores.
Official AP and/or IB score reports if applicable.
SAT or ACT scores required for all freshmen seeking admission into a bachelor's degree program.
Supplemental materials may be required upon request.
Send all transcripts and score reports to
ADMISSIONS
SUNY MORRISVILLE
PO BOX 901
MORRISVILLE, NY 13408     
FINAL HIGH SCHOOL TRANSCRIPTS
Directly following high school graduation, you must submit your official final high school transcript verifying high school graduation, or the equivalent, to the SUNY Morrisville Admissions Office. Please note that the transcript must include a date of high school graduation.
Failure to submit official final high school transcripts by the first day of classes may impact your receipt of federal and state financial assistance. Additional implications may include housing status and meal plan access.
If you have questions concerning official final high school transcripts, please contact the Admissions Office at 315.684.6046 or admissions@morrisville.edu
College Credits Earned in High School
In general, your credits will transfer if they are applicable to the degree in which you are applying.
A grade of 'D' or better is transferable unless a different grade is required for your intended major
The actual grade you received at your prior institution will not count toward your SUNY Morrisville grade point average, unless the course is substituted for a Morrisville course.
Students must submit official college transcripts for all course taken during high school to receive credit.
For more information on credit policies, general education courses and requirements, and articulation agreements, please visit the College Catalog.
Merit Scholarships
Students with a GPA of 85 or above and minimum test scores of 1000 SAT or 20C ACT will be automatically reviewed for scholarships.
All students can apply for SUNY Morrisville Foundation Scholarship by Feb. 1 of each year. Visit our Scholarships & Awards page for more information.
Housing Policy
Students are required to live on campus unless you:
Have completed a minimum of 60 college credits
Live within 30 miles of the college and plan to commute
Are 21 years of age or older
Are a military veteran
Are married or in a partnership
Have a significant financial barrier