Dual-sport student-athlete Jordan Anderson turns competitive fire into a career
A chance attendance of a lacrosse game changed the course of Jordan Anderson's life.
Anderson '17 had just wrapped up a very successful freshman year on the Mustang women's basketball team, earning Rookie of the Year status in the North Eastern Athletic Conference (NEAC) for her performance as the team's starting point guard.
"As soon as that last regular season game hit, the next day I was just walking around and thought, 'what am I supposed to do now?'" Anderson said. "I'm so used to having practice and being busy with sports-related activities."
Anderson initially considered trying out for Morrisville's softball team. It was one of the three sports (basketball and soccer being the other two) in which she excelled at Unadilla Valley High School, just outside her hometown of West Edmeston, New York.
But Anderson's newfound downtime also gave her the opportunity to support one of her dual-sport teammates by attending a Mustang women's lacrosse home game, where a flood of competitive juices instantly struck her.
"I could have a lot of fun with this," Anderson recalled thinking as she watched the game from the stands at Drake Field and her determination to make the team kicked in. "I just wanted a new challenge for myself and just have fun and enjoy my moment."
Entering a sport in which she had never competed and admittedly knew very little about would be no small task, but Anderson was no stranger to overcoming challenges. Since being diagnosed at the age of 3 with 50-75 percent hearing loss in both of her ears, Anderson has used sports nearly her entire life as an outlet to "get in a zone" and focus on her concentration.
"I just view it as something that is a part of me; makes me who I am, to an extent."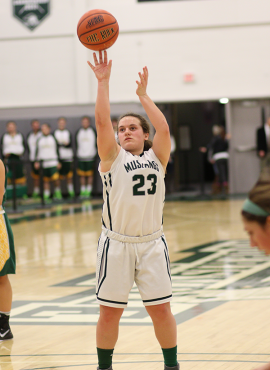 That doesn't mean it's been easy. Not always being able to hear her coach's play call from the sidelines of a basketball game, or sometimes having to compete without her hearing aids due to bad weather during outdoor sports, hasn't held Anderson back from doing what she loves.
"I understand that having hearing aids can affect one's life significantly, but I do not view it as a disability," Anderson said. "I just view it as something that is a part of me; makes me who I am, to an extent. I never said I couldn't do anything because of my hearing loss."
She attributes that attitude to her parents, Wendy and Steve, who always supported her in whatever endeavor she pursued.
"They have done so much for me and allowed me be the person that I am," Anderson said emotionally. "They just let me be myself."
It was no wonder, then, that one of Anderson's deciding factors in attending SUNY Morrisville was the opportunity for her parents and family to be able to regularly attend her sporting events. 
What they would end up witnessing was one of the most successful runs by a student-athlete in the history of Mustang athletics.
Anderson earned a roster spot on the lacrosse team her sophomore year, becoming a defensive starter by year's end and helping the Mustangs secure their first-ever trip to the NCAA Division III tournament after claiming the NEAC championship. The following season, she vaulted to the NEAC All-Conference First Team and was named the conference's Defensive Player of the Year. She matched both of those accolades her senior year, while also helping bring home another conference title for Morrisville.
That two-day championship tournament held in Pennsylvania caused Anderson to miss her graduation ceremony, but also provided her with one of her favorite Morrisville memories. The team surprised her with a graduation celebration — cap, mock diploma and all — in the hotel lobby.
The next day, Anderson was named the Most Outstanding Player of the NEAC tournament after her lock-down defense helped the Mustangs seal the championship.
 "'Unstoppable' is the word that comes to mind to describe Jordan," said Kelsey Van Alstyne, Anderson's lacrosse coach during all three of her seasons. "She learned the game of lacrosse in a few short months. But that wasn't enough; she worked to perfect it. The focus and drive she showed every single day was so impressive and such a good example for her peers to follow."   
Anderson left an equally impressive legacy on the Morrisville basketball court. She finished her career as the program's all-time leader in a whopping seven different categories, registered two NEAC All-Conference First Team honors and led the Mustangs to their first two appearances in the conference championship, all while never missing a single contest in four seasons.
"It was never about individual success for Jordan," said Morrisville head women's basketball coach Erin Skaradek, who coached Anderson during her junior and senior seasons. "More than anything, she wanted her team to succeed and would do anything in her control to make that happen. In my 10 years coaching college basketball, I have never coached a harder working or more determined individual." 
Even more impressive: Anderson's academics never suffered from her commitment to become the greatest athlete she could be. While pursuing an associate degree in sports nutrition & fitness management and a bachelor's degree in human performance & health promotion (HPHP), Anderson earned Morrisville Dean's List honors during each of her eight semesters on campus, while also claiming NEAC Scholar-Athlete recognition for both basketball and lacrosse during every season she competed.
Her senior year, she added the prestigious SUNY Chancellor's Scholar-Athlete Award. 
"That's what I love about Division III. It's not all athletics or all academics, it's a combination of both," Anderson said. "In order to be able to strive on the field or court, you should be able to also strive in the classroom."
Anderson is now excited to get a chance to leave her mark on another Division III athletics program, as she helps build the new women's lacrosse program at Marietta College (Ohio). She is the team's first-ever assistant head coach.
"It's a very different experience that a lot of people can't say they have done," she said. "It's a great opportunity and very exciting. You get to establish a culture."
The only thing that could match Anderson's basketball skills was her on-court intensity, a factor which drove her toward pursuing lacrosse as a coach.
"Basketball, for me, is almost too serious," she said. "Lacrosse is just a whole different learning process. I know I can grow the most if I try to coach lacrosse."
Skaradek agreed.
"Jordan is always looking to learn so she can excel in her sport," she said. "When you pursue a career in coaching, you have to be passionate about what you do, and there's no doubt Jordan has a passion for sport."
Skaradek and Van Alstyne are both excited to watch their former pupil become a peer.
"Jordan has all the necessary tools to become a very successful head coach," Skaradek said. "I'm excited to follow her, mentor her and watch her grow as a leader in women's athletics."
"I was so proud when she took the position at Marietta and that she had found a love for the game of lacrosse that I have always had," Van Alstyne said. "It has been wonderful having the opportunity to attend recruiting tournaments with her and I look forward to seeing her on the sidelines this spring."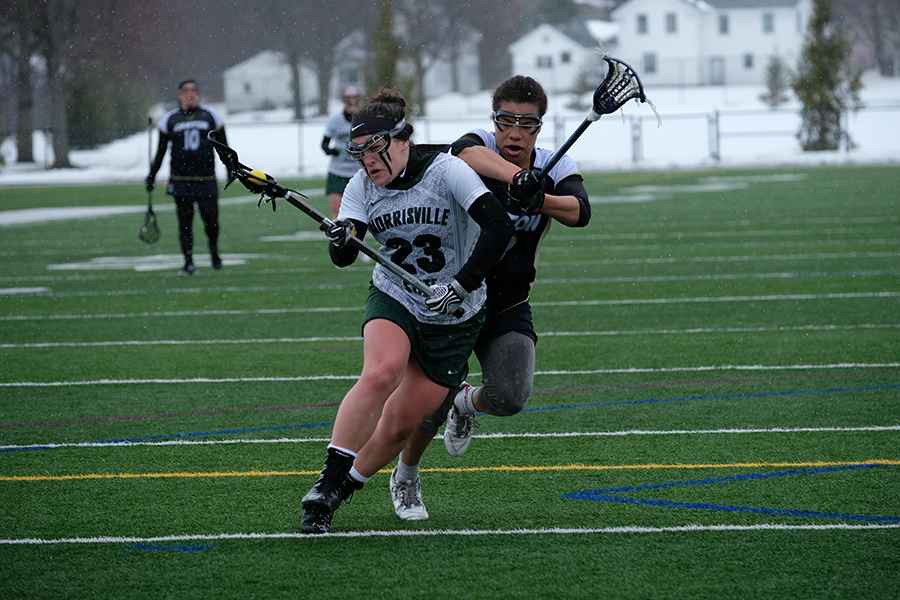 Anderson also puts her Morrisville degrees to good use, working as a certified strength and conditioning coach for her lacrosse team and Marietta's softball team. Thanks to the five different internships she completed as a student, including at Morrisville's Wellness Center, Anderson feels more than prepared for those tasks. 
"I know, without a doubt, that she will excel and be a terrific role model for all the players that are fortunate enough to play for her," said Van Alstyne, who also served as one of Anderson's strength and conditioning internship supervisors. "I know whichever path, sport or profession Jordan chooses, she will be incredibly successful and will inspire those around her to be better, as she did with me."
As she begins her coaching career, Anderson now shares the same message she has lived by with any student-athletes who doubt themselves.
"Just go out there and be yourself," she said. "Focus on what you want to achieve and use your support system. Just go out there and be you — and work hard, of course."
"Focus on what you want to achieve and use your support system. Just go out there and be you — and work hard, of course."
Setting the Mustang Mark
Jordan Anderson is arguably the most decorated female student-athlete in the history of Mustang athletics, racking up numerous academic and athletic accolades while donning the green and white jersey for both the women's basketball and lacrosse teams during her collegiate career.
Her accolades include:
2016-17 SUNY Morrisville Female Student-Athlete of the Year, as selected by college's Athletics Department
2016-17 SUNY Chancellor's Scholar-Athlete Award, as chosen by a panel of athletic directors from across the SUNY system and members of the SUNY provost's office, based on academic credentials and athletic accomplishments
Eight-time SUNY Morrisville Dean's List honoree
One of three SUNY Morrisville female student-athletes selected to attend the inaugural North Eastern Athletic Conference (NEAC) Women's Leadership Day in 2017
First Morrisville student-athlete to garner NEAC All-Conference First Team accolades in two different sports
Basketball (four seasons)
Selected as team captain during all four seasons
Four-time NEAC Scholar-Athlete honoree (2013-14, 2014-15, 2015-16, 2016-17)
Two-time NEAC All-Conference First Team selection (2015-16, 2016-17)
2016-17 Eastern College Athletic Conference (ECAC) Division III North Second Team All-Star
2013-14 NEAC Rookie of the Year
Finished 2016-17 season as NCAA Division III leader in total assists (203)
First SUNY Morrisville women's basketball student-athlete to reach the milestone of 1,000 career points, doing so as a junior
Set the NEAC record for most steals in a game (11) during 2013-14 season
Guided the Mustangs to three straight appearances in the NEAC tournament (2014-15, 2015-16, 2016-17) and two appearances in the NEAC championship (2015-16, 2016-17)
Finished as the program's all-time career leader in:

games played (108 — all starts at the point guard position);
points scored (1,400)
assists (515);
steals (334);
field goals made (419);
free throws made (518);
two-point field goals scored (370)
Women's Lacrosse (three seasons)
Appeared in 51 games at defense, starting 48
Selected as team captain during senior season
Three-time NEAC Scholar-Athlete honoree (2015, 2016, 2017)
NEAC Defensive Player of the Year selection in 2016 and 2017, becoming the first student-athlete in program history to win the award in consecutive seasons
Two-time NEAC All-Conference First Team selection (2016, 2017)
Named Most Outstanding Player of the 2017 NEAC championship tournament
2017 ECAC Division III North First Team All-Star 
2016 ECAC Division III Metro/Upstate First Team All-Star
Set the program's single-season record for caused turnovers (68) in 2017, and finished third all-time in career caused turnovers (130)
Led the Mustangs to two NEAC championships (2015, 2017) and the program's first-ever berth to the NCAA Division III tournament (2015), in addition to a second tournament appearance (2017)