When Alexandra "Ali" Bland '09 was pregnant with her first child in 2015, she asked her husband if he could build a radiator cover that could double as a changing table in their nursery. Before long, Thomas Bland '09 had created a rustic piece with a drawer, small cupboard and an eye-catching herringbone-patterned top made from pallets.
He completed the project with such efficiency and enthusiasm that she found herself wondering what else he could make. The couple was in the process of renovating a stately 1920s-era house on Parkwood Boulevard in Schenectady, New York, and woodworking came naturally to Tom. For his next project, he used reclaimed wood to make Ali a Pottery Barn-style kitchen island with slatted shelves. She used it for less than a month before they sold it on Craigslist.
"Everyone who saw it oohed and ahhed over it and said, 'that's really nice. You should build more,''' Ali said.
And that's how Anything But Bland Designs, the couple's interior, landscape and custom furniture design company, got its start.
Since that time, the Blands have joined dozens of other makers as vendors at Clinton Street Mercantile, an artisans' co-op in downtown Schenectady, where they offer everything from coasters, candlesticks, cutting boards and hand-lettered signs to furniture-like desks, dining room tables and vanities. Much of the wood Tom uses to make furniture is salvaged from old buildings in Schenectady County.
They've also embarked on their biggest project to date: the purchase and renovation of an 8,700-square-foot former warehouse building in Schenectady.
The first floor will house Tom's woodworking shop and Ali's design studio and the second floor will have three large apartments, including one where the Blands and their young daughters will reside. It will have kitchen islands and bathroom vanities made by Tom.
"We are so excited to get this project going,'' Ali said in January, shortly after the Blands closed on the building. "It will be our base.'' She called 2019 a year of waiting and patience and expects 2020 to be a year of more patience, hard work and growth. In March, they were awaiting permits and paperwork from the city of Schenectady and hoping to soon begin their build-out. Then the coronavirus pandemic struck and life as they knew it was put on pause.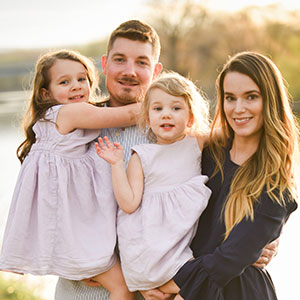 The Blands are looking forward to pushing forward with their project as soon as it is safe to do so.
"We really wanted to use a blighted building for our space,'' Tom said. "We trust that this project will not only show our community what can be done when put your trust and hope into something much greater than yourself, but also help lead the revitalization of our new neighborhood. Throughout the whole project we've felt like we were being led here.''
While they were students at SUNY Morrisville more than a decade ago, Ali said she and Tom, both 32, couldn't have imagined the unexpected twists and turns their lives would take to get them to this point.
Ali, from Duanesburg, in Schenectady County, and Tom, from neighboring Schoharie (Schoharie County), met at Morrisville in 2008 when Ali's father introduced them. Tom was studying automotive technology, while Ali was majoring in landscape design & management.
The Beginning
Ali was driving a 1991 Honda Accord with recurring battery issues when Tom jump-started it for her a few times while they were on campus. During winter break, Tom asked Ali what she was doing for New Year's Eve. Her response: "Probably nothing, my car is dead again."
"I told her I'd take it to work with me the following week under one condition — she had to pay me with a date. I fixed her car and a few days later we went to a little cafe for dinner. She ordered a cheeseburger and when it came, she pushed up her sleeves, put her hair in a bun and dug right in. We've been together ever since.''
Following graduation, both immediately found jobs in their respective fields. Tom went to work at a car dealership and currently works as a technician for New Country Porsche of Clifton Park, New York. Ali went to work for a landscaper and honed her landscape design skills, which she would later put to use at the house they renovated and sold. In the offseason, when her employer focused on snow removal, she turned her attention to interior design and began to work freelance.
Now, among other things, Ali works with a custom homebuilder in the Capital District who discovered the Blands' work and projects on Instagram. She helps clients select everything from paint colors to light fixtures to kitchen cabinets. She consults on space and storage planning and also helps homeowners settle on things like exterior color and landscape schemes.
"It's really fun,'' Ali said. "If you're starting from scratch on a house, there are just so many choices and decisions … I help people spend money in smart ways.''
When they're not working, the Blands love to spend time with their daughters and families — and watch HGTV (Home & Garden Television), a television channel featuring programming related to home design, decorating and remodeling ideas. Ali said they're fans of "Home Town,'' with hosts Erin and Ben Napier, who have a passion for restoring old homes in the South. Ali finds that show especially relatable.
"I was the kid who liked to go to Home Depot when I was little and look at the kitchen displays,'' she said. "I'd get on Zillow and look at old houses for hours. I always knew I wanted to do home design. It's cool that's actually happening now.''
Even with everything they presently have on their plates, the Blands plan to someday renovate more houses and contribute to neighborhood revitalization in Schenectady. Their warehouse will allow them to live in one place while restoring another property or properties.
"We don't ever want to live through a renovation (of our own property) again,'' Ali said, "but we will definitely be restoring other homes. One of the main things Tom wants to do is take wood salvaged from demolition and put it back into the home. That way you're updating but still preserving history.''
Anything But Bland Designs