A supportive professor who infallibly made himself available to his students, even long after they graduated; A hard-working dean always at the center of the action — that is how colleagues and students are remembering faculty emeritus Joseph Nassimos.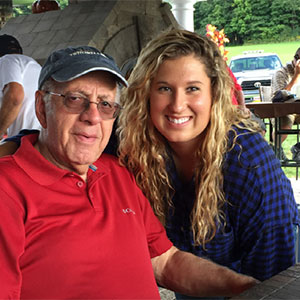 Nassimos, of Hamilton, New York, passed away in January at the age of 83.
"Joe's legacy will live on in the work he accomplished and the thousands of lives he impacted," said Larry Baker, a member of the College Council, Foundation Board and a former Dean of the School of Business. "He will be missed by many."
Nassimos came to SUNY Morrisville in 1965 as an accounting professor. He was promoted to Dean of the then School of Business before returning to teaching, then retiring in 1995. While serving as dean, he also taught accounting and business classes, a role that bestowed on him the honor as one of the first recipients of the SUNY Chancellor's Award for Excellence in Teaching.
His merit in the classroom earned him the admiration of colleagues and students, who fondly remember him as a caring teacher who kept in touch with them after they graduated and continued to advise them in their lives and careers.
He was equally distinctive in his role as dean. The college experienced significant growth during his tenure, with Nassimos leading faculty in expanding the offerings and complexity of the school's programs and curriculum, and championing the School of Business and the college as a whole.
He was instrumental in starting a college chapter of Phi Theta Kappa Honor Society and established numerous articulation agreements with local colleges to ensure that students had ample transfer opportunities after completing their degree at SUNY Morrisville.
"He will always be remembered for working so diligently to advise students on paths leading to successful careers or continuing education after they graduated," SUNY Morrisville President David Rogers said.