Tossing a lacrosse ball back and forth was a big part of Louie '15 and Nick Geswaldo's childhood. While others were playing video games, the brothers were shooting and catching, from dawn to dusk, in the backyard of their LaFayette, New York, home.  
As they got older, their love for lacrosse deepened their brotherly camaraderie and spread to a college community.
"We're very close," Nick said. "We've always had the same interests and hobbies and ended up always doing them together."
"We're best friends," Louie III added. "We do everything together — work, hunt, fish and lacrosse."
A three-year age gap never distanced the closeness between the brothers and carried over into college. Nick, 21, followed Louie, 24, to play lacrosse and study at SUNY Morrisville, where they dedicated themselves to achieving their career goals while also scoring them at a record-setting pace on the lacrosse field.
Nick, a senior residential construction major, is applying his well-rounded Morrisville education renovating and renting residential property in Syracuse, New York, following in the footsteps of Louie, and their father, Louis Jr.
Louie graduated from Morrisville in May 2015 with an associate degree in wood products technology – finish carpentry option. An attacker on the lacrosse team, he made his mark on the field registering 122 goals and a school-record 200 points during his four-year career.  
A dream came true for Nick and Louie when they shared the field as teammates in 2016. .
"It was great to get one year to truly be on the same team," Nick said. "We always had great chemistry just from playing together in the yard all those years growing up. Going to Morrisville and having the chance to play on the same team was definitely something we wanted to do."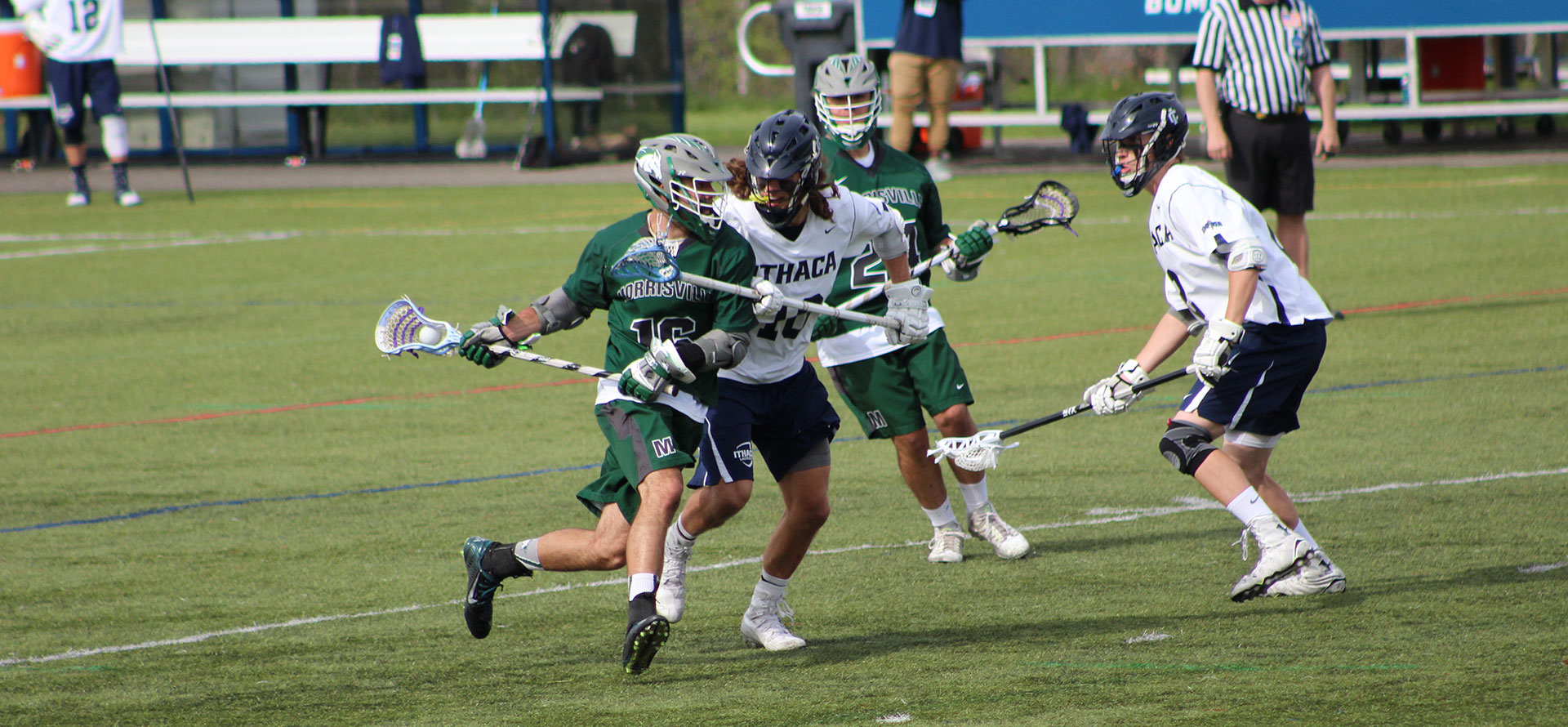 We always had great chemistry just from playing together in the yard all those years growing up. Going to Morrisville and having the chance to play on the same team was definitely something we wanted to do.
"Playing together with him that one year was huge," Louie said. "In high school it never worked out because of our age difference. Then we finally got the opportunity. ."
The Geswaldo lacrosse legacy made it into the Morrisville record books. Nick broke his brother's school record for career goals last season. He also is on track to surpass another of Louie's records to become Morrisville's all-time points leader.
"It's an accomplishment I'm very proud of because my brother held the records," Nick said. "When I set the record for career goals last year, he was there on the sidelines to congratulate me. It was a memorable moment for me."
Nick,an attacker from LaFayette High School, recorded 49 goals and 20 assists last season. He was a key component to Morrisville winning its fourth straight NEAC conference championship and sending the Mustangs to its fourth consecutive NCAA Division III Tournament appearance. The team netted its first-ever victory, as well, with Nick scoring the game-winning goal in overtime.
He entered the2019 season with a school-record 127 career goals, while being ranked second behind his brother in career points with 179.
"It makes me extremely proud he's going to break all my records," Louie said. "I hope he sets the bar high and we can be one and two in the record books for a long time."
For the last four years, Nick has successfully balanced sports and a full course load.  
In addition to making the Dean's List and earning NEAC Scholar-Athlete awards, he made first team All-Conference last season and was named NEAC Player of the Year in 2017 as a sophomore.
His work ethic is unrivaled. On top of juggling lacrosse, academics, and buying and renovating homes, Nick works a seasonal job at Watson Farms in his hometown, where he logs50-plus hours a week, putting to good use the horticulture, landscaping and hardscaping training he receives at Morrisville.
Plant identification in landscaping, building retaining walls and building patios are all things he's learned through assignments and hands-on projects. "I'm using all the skills I learn every day," Nick said.
His passion for hardscaping — adding artistic design through wood, block, stone and brick —began in high school and was fueled when he designed and built a brick patio at the family's home. When it came time to choose a college where he could pursue both lacrosse and hardscaping construction, Morrisville proved to be the perfect fit.
Real-world assignments have him immersed in hands-on projects, including those in local communities building decks, remodeling houses and laying bricks for foundations. 
One of his memorable college projects is building the brick walkway at Crawford Hall.
"The instruction and hands-on training I've received in landscaping and residential construction will play a large role in my life."  
As school and lacrosse wind down, Nick plans to spend more time in the family enterprise, acquiring and transforming vacant homes into viable rental properties.
"The family business is growing," said Louie, a Syracuse City firefighter and assistant coach of the LaFayette varsity lacrosse team for the past three years. "It's awesome we get to do this all together."