The story of George and Barb Elias is a perfect reminder that anyone can leave an extraordinary legacy. George Elias '70 (instrument technology) endowed a scholarship in honor of his late wife, Barb '81 (horse husbandry), the Barbara A. Elias '81 Endowed Scholarship Fund. 
Barb left a trail of giving that spread from New York State to Colorado and many places in-between. The scholarship George created will continue her legacy.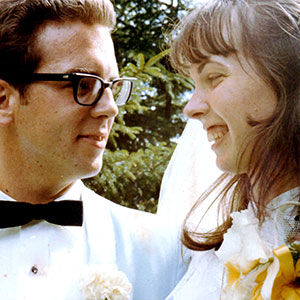 The beginning
It was Oct. 4, 1969. A young George Elias had just arrived back to SUNY Morrisville after serving four years in the Navy. As he polished his car outside of North Hall, he witnessed some shenanigans coming from a third-floor residence hall window.
Barb Elias (then, Barb Ann Lewis) was soliciting help in math from her friends when they suggested she ask the man cleaning his car below. Barb and George spent the next few hours on the wall outside of North Hall working on her math homework. Little did he know, George had just met his soon-to-be wife.
It was only a few months later, in December of 1969, that George proposed to Barb in the lobby of her residence hall. "It wasn't very romantic," George joked.
By August of 1970, they were married and a year later they welcomed their daughter, Trudi Elias, to the world. Barb put her horse husbandry education on hold while George completed his degree in instrumentation technology and got a job working for Eastman Kodak in Rochester, New York.
In the ensuing years, Barb returned to school to complete her LPN degree, gave birth to their son, Jason Elias, completed her associate degree in horse husbandry from Morrisville, her bachelor's degree in recreation therapy, and after her retirement in 2004, received her master's degree in special education. All the while, she maintained her love of horses, which she owned and George inherited. "They were her horses. My pets," George said. "I was always so proud of her varied accomplishments."
George's job took them to Colorado and later Barb's took them to Georgia, before they finally relocated to Lakeland, Florida in 2016 to enjoy their retirement together.
"Barb always believed in giving back to the community and helping people achieve their highest potential," George said.
That was evident in her educational pursuits that led to careers which always impacted the communities they resided in.
In Georgia, Barb established the first 4H riding program for handicapped children and adults — the Free Spirit 4H Riding Club. At the VA Center in Canandaigua, New York, she started a pet therapy program that enabled her to help America's heroes through the assistance of animals.
In 2017, Barb was diagnosed with pancreatic cancer and passed away in 2019. Struggling with the loss, George was reading about coping with grief when he came upon words of advice that stuck with him. "Find a way to memorialize the person you love."
He reached out to SUNY Morrisville. "Barb struggled to pay for school. My only criterion was that the scholarship would be given to someone who faced a financial need and was studying something to do with equine – that was it."
In December 2021, George established the Barbara A. Elias '81 Endowed Scholarship Fund.
"I'll continue to contribute to the scholarship for as long as I am able," George said. "It's just great to know that Barb will always have an impact on the students of SUNY Morrisville."

Kicking off the Campaign for Morrisville
President David Rogers worked in higher education for many years before coming to SUNY Morrisville in 1999. He has served as college president since 2015. During his tenure as president, he has directed more than $100 million in upgrades to campus facilities, including a new Agricultural and Clean Energy Technology (ACET) Center.
He also led the way in transitioning the college into a baccalaureate institution, introducing new academic programs, some of which earned the college national and international recognition, and recently introduced the college's first master's degree in food & agribusiness.
For nearly three decades, Jan has been a faculty member at SUNY Morrisville, teaching both foundational and specialized courses in the Biology Department. As an associate professor, Jan is a published scholar and has served as editor of the newsletter for the Empire State Association of College Biologists.
Her expansive service to Morrisville includes onboarding, advising and mentoring students and faculty. She has served on the executive committee of College Senate, chaired the Curriculum Committee and was an early co-chair for her division in the School of Liberal Arts & Sciences.