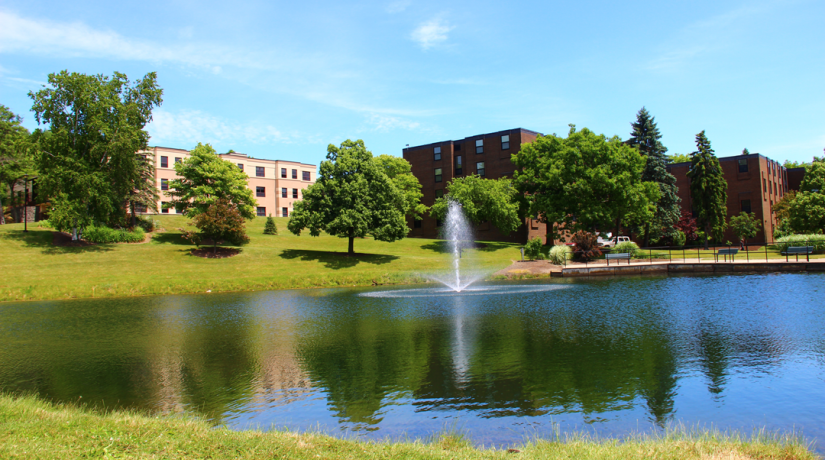 Congratulations on being admitted to SUNY Morrisville! As you prepare to enter this exciting new phase of your life, you're probably asking, "What do I do next?!"  
We are here to help you answer those questions! Here are the initial steps you should take: 
1. Log into our student portal, Web for Students
You can log into Web for Students using your Morrisville user identification (ID) and personal identification number (PIN), which was provided in your acceptance packet. (What do I do if I don't have my PIN?)
Web for Students is a great resource to get to know, as it provides you online access to:
View and pay your deposit and semester bill
Financial aid information
Housing: options, preferences, roommate assignments
Meal plan options 
Your course schedule
Your grades
Laptop option selection
Hospital Insurance Waiver Form
Your email account
If you need assistance accessing your Morrisville user ID or PIN, please contact the Admissions Office at 315.684.6046. If your PIN becomes disabled, please call the Registrar's Office at 315.684.6066 so that it can be reset.
2. Visit SUNY Morrisville during one of our Accepted Student Days 
Come see everything Morrisville has to offer during one of our Accepted Student Days, where you can:
Meet faculty
Tour the campus and academic facilities
Meet fellow classmates
Speak with various campus offices
Taste a variety of dining options
Additionally, committed students will be able to:
Take their student ID photo
Receive their fall course schedule
 You can register for an Accepted Student Day through the Web for Students portal.
3. Watch and Learn! 
See all that SUNY Morrisville has to offer by taking a virtual tour of our beautiful campus! Be sure to also visit our YouTube channel to learn more about our programs, view housing options, hear from alumni and discover a 360° Experience of our facilities.
For students accepted into the Morrisville Access Program
If you have been accepted into the Morrisville Access Program (MAP), you must participate in a pre-freshman program that will take place prior to the start of the fall 2018 semester. You will be notified with exact dates and details soon.  
The MAP pre-freshman program consists of a series of workshops and advising designed to assist students:
Practice the skills necessary to become academically successful;
Set goals and a plan that maps the road to academic success;
Become team players; and
Strengthen their confidence and motivation for success.
Students in this program will be enabled to work toward and achieve good academic standing at SUNY Morrisville.
All Morrisville Access Program students will be enrolled in a one-credit practical studies class that will be held throughout the fall semester. 
Other Important Tips for Accepted Students
DEPOSITS
Once you are accepted to SUNY Morrisville, you are required to submit a $200 advance deposit, which includes $100 toward guaranteeing your place in your chosen academic program and $100 to reserve your space in the residence halls.
FINANCIAL AID
If you wish to receive federal loans or grant money, you must complete a FAFSA (Free Application for Federal Student Aid) form and renew it every year. 
For New York State residents, a TAP (Tuition Assistance Program) application can be completed at Higher Education Services Corporation to determine eligibility to receive New York State grant money. In addition, a wide variety of scholarships and awards and other forms of assistance are available at SUNY Morrisville. For more information, please visit the SUNY Morrisville Financial Aid Office.
SUNY MORRISVILLE MATHEMATICS PLACEMENT TEST INSTRUCTIONS
The SUNY Morrisville Mathematics Placement Test is an online, 60-question multiple-choice test divided into four parts of varying lengths. You must pay your admissions deposit to access the exam. 
The test is designed to be completed in one sitting, and takes approximately two hours to complete. Please note that math placement is not determined solely by this test. The faculty of Morrisville's Department of Mathematics will review all relevant academic materials to determine your final class placement. 
The placement test score is needed before your schedule can be made. If you require testing accommodations, please contact your SUNY Morrisville Admissions Advisor to make individual arrangements.
HOUSING AND ROOMMATE ASSIGNMENTS
Your housing and roommate information can be accessed through Web for Students. Housing assignments begin after June 1.
SEMESTER COURSE SCHEDULE
As an incoming freshman, transfer or readmission student, your school office will build your course schedule for you. Each subsequent semester, you will be responsible for meeting with your faculty advisor to formulate your own schedule.
TEXTBOOKS
The SUNY Morrisville Campus Store allows you to view all textbooks required for your courses. Students have the option of preordering their textbooks at the beginning of each semester.
IMMUNIZATION RECORDS
Immunization records must be submitted to the SUNY Morrisville Student Health Center. You must provide proof of two MMR vaccines (Measles, Mumps and Rubella) and proof of the Meningitis vaccine or Meningitis waiver. You will not be able to register or access your class schedule until you are in compliance with these immunization requirements.
FINAL HIGH SCHOOL TRANSCRIPTS
Directly following high school graduation, you must submit your official final high school transcript verifying high school graduation, or the equivalent, to the SUNY Morrisville Admissions Office. Please note that the transcript must include a date of high school graduation.
Failure to submit official final high school transcripts by the first day of classes may impact your receipt of federal and state financial assistance. Additional implications may include housing status and meal plan access.
If you have questions concerning official final high school transcripts, please contact the Admissions Office at 315.684.6046 or admissions@morrisville.edu