As a single mother, Rolanda Campbell '22 has faced her share of financial burdens while pursuing her education at SUNY Morrisville.
But childcare costs, transportation worries and so many other financial burdens were alleviated thanks to the college's Student Hardship Fund, which helped her stay on track.
The fund supports students who incur a sudden expense or change in circumstances they cannot overcome with financial aid or family support.
"I am thankful that this exists to help make these things possible," Campbell said. "This has been a trying time not just for me, but for many students."
This year, opportunities will open for more students in need as the college's third annual Giving Day raised $71,856, which will directly support the Hardship Fund.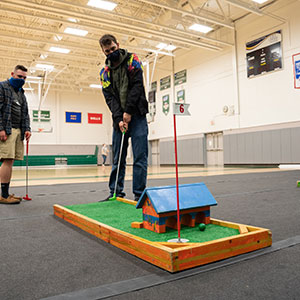 Since its inception in 2014, the Student Hardship Fund has helped put dreams within reach for hundreds of students.
During the pandemic, the number of students applying for the fund tripled as students and their families experienced job loss and other unexpected costs. The fund became a top priority, with the community rising to support its need.
"We are so moved by this outpouring of support from our community of alumni, parents and friends," said Theresa Kevorkian, vice president for institutional advancement. "The college is committed to helping every student stay in school, regardless of their circumstances, and gifts on Giving Day will bolster this fund for another semester to aid our students."
SUNY Morrisville's Giving Day 2021 was a 24-hour challenge that brought the Morrisville community together in celebration of philanthropy and Mustang Pride.
When $25,000 was raised, five challengers stepped up to match the funds dollar-for-dollar, with a $50,000 goal. Challenge donors were: Donald Babcock '59; Harmon Hoff and Eve Ann Shwartz; Jim Owen '63; Terri Spiegel '74; and Glenn Tucker '78.
When the goal was reached, Morrisville College Foundation board member Gary Smaldone '81 pledged an additional $10,000 matching challenge that kept the momentum going.
Also rising to the challenge was the college's esports team, which raised $541 during a 24-hour marathon stream.
"Coming into Giving Day, we knew we needed to raise $50,000 to support the fund for next fall," Kevorkian said. "Exceeding the goal means we can support more students more generously and that this total may even carry through to next spring. It is so reassuring to know we'll be able to keep helping students this way."
A financial emergency of as little as $300 can interrupt a student's education. "The fund enables them to get back on their feet and press on with their degree, which will lead to a rewarding and sustainable career," said Courtney Turner, director of annual giving.
This year's Giving Day festivities were scaled back, due to the pandemic, but it didn't put a cap on generosity or enthusiasm.
Participants enjoyed mini golf, food, games, demonstrations by the college's Woods Sports Team and a virtual concert with SUNY Morrisville alumnus Tim Moyer and his popular Central New York band, Gridley Paige.
Campus community support was overwhelming, with 215 donors, eleven of them students who wanted to support their fellow classmates.
Dairy management student Devin Kuhn is one of many who championed the cause. "I have a couple of friends who were assisted by this fund and I know how important receiving any type of financial assistance is."
"This is a wonderful idea and I am happy to be a part of it," said Connie Forward '94, a college staff member and Giving Day donor.
"We all face hardship in our lives and I am so proud to be a part of this by making a gift," said staff member Johnathan Whitbeck, whose friend Cassidy Martinez '22 lost her laptop and all of her books in a house fire last year.
We all face hardship in our lives and I am so proud to be a part of this by making a gift.
Johnathan Whitbeck
"The hardship fund took away the burden of replacing those materials almost immediately," Martinez said. "I am beyond thankful for this fund and I hope that any students who are financially insecure can breathe a little easier."
"Making a gift to the Hardship Fund is an act of kindness for our students and it is also a vote of confidence in their ability to succeed," Kevorkian said.
Below, some students who received the Hardship Fund share the impact it had on their lives:

"Being a single mother, it has been challenging to continue my education while dealing with childcare closing and reduced hours at work," Campbell said. "With the Student Hardship Fund I was awarded, I was able to pay bills and have transportation back and forth to school. I was also able to pay for childcare so that my son can continue to receive a great education from the Children's Center on campus."
"The Hardship Fund helped me when I did not have enough money to pay for my courses," said student Brooke Severin '21. "I would not have been able to graduate without the help I received and I am so thankful."
"The Hardship Fund has helped me pay for my rent, books and tuition," said Orchid Kinzie-Middleton '21. "I am forever grateful for this fund and its mission to alleviate some of the financial burdens that students face. I am positive that without the Hardship Fund, I would have had to put my education on hold. There is no limit to my gratitude for those who have helped make the Student Hardship Fund accessible to me."
Thank you to our challenge donors who made this Giving Day possible!
Donald Babcock '59
Donald Babcock '59 spent his career in the auto parts, music and real estate industries and now splits his time between Skaneateles Lake and Mount Dora, Florida. Babcock generously funds student scholarships every year. As a student, Babcock experienced food insecurity and does his part to make sure students today do not have the same struggle.
Jim Owen '63
Jim Owen '63 spent 35 years as a business teacher and athletic coach and credits Morrisville with giving him his start. He supports student scholarships to help students get inspired the way he was as a student.
Glenn Tucker '78
Glenn Tucker '78 and his wife Shelly own and run their own business in Phoenix, Arizona. Tucker supports the Student Hardship Fund because he wants to improve students' quality of life and enable them to enjoy and make the most of their college experience.
Harmon Hoff and Eve Ann Shwartz
Harmon Hoff and Eve Ann Shwartz hold many roles in our community including town supervisor, school board member, retired teacher and lifelong beef cattle farmers. Hoff and Shwartz support the Student Hardship Fund because they believe that education is the path to strength and sustainability, not only for each individual student and their family, but also for our community as a whole.
Terri Spiegel '74
Terri Spiegel '74 pursued a successful career in nursing after graduating from Morrisville and now lives outside of Atlanta, Georgia. Spiegel is passionate about academic excellence and supports students so they can focus on their studies and launching their professional careers.