Event time - additional information
Doors will open at 11:30 a.m.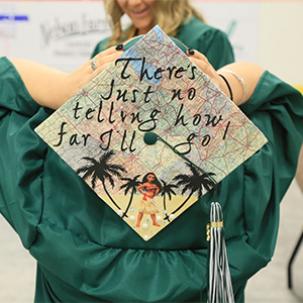 The ceremony will be held indoors in the SUNY Morrisville Recreation Center.
Doors open at 11:30 a.m. 
For the safety of everyone attending the ceremony, all bags will be checked upon entry to the Recreation Center. 
Duration
The ceremony is estimated to last approximately 2 1/2 hours.
Get Tickets
All graduates will receive four (4) commencement tickets to accommodate family members or guests. Tickets will be provided to you when picking up your gap and gown. Tickets are required for entry to the ceremony.
Parking
Most campus parking lots are available for visitor parking on commencement day. New York State University Police will assist visitors with parking. 
Continuous shuttle service will also be provided from the A Lot to the ceremony site.
Driving Directions
Here are driving directions to SUNY Morrisville, as well as a campus map.  
Guest Seating
Tickets are required for entry to the ceremony.
Accessibility seating sections will also be available at all locations. Please check with ushers at the ceremony site if you require specific assistance.
Viewing Locations
Closed-circuit television viewing of the ceremony will be available at a number of locations on the campus, where unlimited additional family members and guests may comfortably view the proceedings. No tickets are required at the viewing locations, which are listed below. 
College personnel are happy to assist family and friends with finding these nearby sites the day of the ceremony: