A beacon for generations, no end in sight for professor Shirley Crawford, SUNY Morrisville's longest-standing faculty member
Social science professor Norman Dann, Ph.D., recalls very clearly the day he returned to his office on the SUNY Morrisville campus to find a young faculty member, in her first days on campus, waiting outside his door.
"She had this idea for a cross-disciplinary course that would combine sociological themes with science," said Dann, now an emeritus. "She was very clear about the concept, and I was very interested."
That diminutive 30-something faculty member was professor of biology Shirley Crawford, who reported for work at SUNY Morrisville on August 1, 1973. This fall, she will begin her 47th year on the job — the longest faculty term in the college's 110 years of instruction.
She has become the standard-bearer — literally and figuratively — for excellence among her faculty peers, leading numerous campus committees, the Faculty Senate and even the annual procession at commencement. And to several generations of students, she has been a bridge between their varying levels of indifference to the physical sciences and a new appreciation for biology — and for academic excellence itself.
Her student evaluations through the years include oft-repeated expressions of praise:
"An awesome teacher!"
"Best professor I've ever had."
"She motivated me to do my very best in everything."
"When I sat in her classes, I realized how thirsty my mind had been."
"Her lectures were special. I never missed a day."
The Road to Morrisville
The road that led her to Morrisville — and the love of the place that made her stay — are as unique as the woman herself. Born in a small town in Pennsylvania, she developed a strong work ethic at an early age under the eyes of two parents who "valued education and had high expectations for me in all areas of life," she said.
Soon after graduating with a bachelor's degree in biology from Penn State University, she was working as a research chemist when she was visited by a fellow Penn State grad who was wearing "a brand new U.S. Air Force uniform with 2nd-Lietuenant bars on his shoulders." It wasn't long before they were married.
She accompanied and supported her husband, Jack Crawford, through a 23-year career in the Air Force that included two tours in Vietnam and placements in California, Alaska and Florida. She taught at every stop, becoming a charter faculty member in 1967 at the newly opened Valencia College in Orlando, Florida. Her master's degree in biology came from Rollins College in Winter Park, Florida.
Jack's final military assignment was in Syracuse, New York, and it was there that Shirley enrolled in a Ph.D. program in water resources at the SUNY College of Environmental Science & Forestry, located at the south edge of the main campus of Syracuse University. On the same day she enrolled, she stopped by the then Morrisville Agricultural and Technical College 35 miles to the southeast, "to see what the future might be for me."
She left campus that day as a member of the biology faculty. And perhaps predictably, the overachiever who had delivered newspapers as a youth in her rural hometown where she also stocked shelves at the local grocery store, and who had taught secondary and college biology while she raised their three children at multiple stops during the Air Force years, found herself with the dual tasks of full-time faculty member and full-time doctoral student.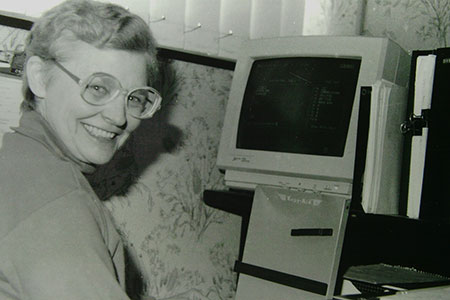 Three years later, she was awarded Ph.D.s from SUNY ESF and Syracuse University. "The 'boys' were not too fond of that," she recalled of her male colleagues at the two institutions. "But a lot of the courses I took counted for both degrees, so there it is," she summed up with her typical matter-of-fact style.
Retired Vice President of Administration Larry Baker noted that Crawford rose through the college ranks when female faculty members were a rarity in the physical sciences. "She never apologized for who she was, and she never made it more difficult for anyone else, regardless of who they were," Baker said. "Shirley has been such an important, influential member of the Morrisville faculty for so long that it's impossible to overstate what she's meant to us."
Shirley and Jack, who found his second career as Morrisville's bursar, also donated more than a few paychecks over the years, and Baker says they are far and away among the college's top lifetime donors.
Shirley has been such an important, influential member of the Morrisville faculty for so long that it's impossible to overstate what she's meant to us.
Larry Baker
In return, the college honored the couple with the renaming of the former Laboratory/Classroom Building as Crawford Hall.
The Start of a Legacy
Dann had earned his doctorate in interdisciplinary social sciences and had been working on developing interdisciplinary studies since the early '60s, at a time when most college campuses were collections of separate academic departments that operated mostly independent of one another. So when Crawford approached him on that first day of August in 1973, it was as if the universe had connected him to a kindred spirit.
The course the two developed, with the assistance of a former natural science professor, Kingsley Greene, was Science and Society. For more than two decades, it would serve as a three-credit course that was cross-listed to fill students' needs for a physical science, a natural science or a social science. For many liberal arts students in particular, it replaced a lab class in biology that they would prefer not to take, and it was no easy 'A.'
"I believe Science and Society was the first class I was in at Morrisville," said Michael Gormley, a 1981 graduate from the college's Associate in Applied Science program in journalism technology. "I remember it well. It was amazing. For the first time, I had seen how academics truly intersected with real life, how what we studied could be used to improve the world.
"I was also floored by Dr. Crawford. At first she seemed like just another friendly, good teacher. Then she explained complex concepts so well that I realized I was in the presence of a high-level of intellect and skill I hadn't yet encountered. It was so damned cool!"
The three faculty would each take part of the lecture in each class, one after the other, and on Fridays the two sections of the course, 220 students in all, would meet for an afternoon lecture in the college's theater, with frequent guest lecturers from the three disciplines.
After Greene retired, they continued to use his lectures on videotape.
When Dann retired in 1999, the college had trouble finding a social scientist with the interdisciplinary background to make Science and Society work, so the course was discontinued after 25 years.
Baker, who retired as administrative vice president after more than four decades of work at Morrisville, recalls that he had been on campus as dean of the School of Business when Crawford arrived in 1973.
"Shirley was always a leader and a great teacher for our students," Baker said. "There are a few of us who worked a long time at Morrisville. Then there's Shirley, who is the longest-serving faculty member of all.
"She's meant so much to this place."
Crawford said one thing has remained the same through her tenure. "I like our students," she said. "Some of them come from a diverse background where maybe they never have fallen in love with a subject. The most satisfying thing of all has been the opportunity to help change their lives — sometimes in small ways, other times to see your efforts actually produce an excited lifelong scholar.
"If the student will stay with me and work with me, we can make some progress."
Among her fondest memories of campus have always been the annual scholarship dinners for the college's outstanding students. "It's always remarkable," she said with a broad smile, "to listen to the professors talk about their students. There was a kind of a general dedication among these students to their scholarship, and they had that in common." Not surprisingly, the Crawfords help fund several academic scholarships.
Crawford also enjoys her perennial role as mace bearer at commencement each spring, leading the academic procession of faculty and staff into the graduation ceremony.
Does Morrisville's longest-serving faculty member have a timetable for leaving?
"Not at all. No end in sight," she said. "I just like the students. As long as that continues, I'll still be here."
Did You Know?
During the height of the AIDS crisis in the mid-'80s, Crawford developed an artificial blood testing kit that was sold to high schools and colleges across the country — and still is today. Every penny of profit from those sales went into the Morrisville College Foundation, as did the proceeds from all of her study guides that her students purchased for her classes and a project that shows the visual effects of pollution on a living organism.