Megan Viera '18 concentrates on her footing as she walks up a wooden ramp leading to the porch of a two-story farmhouse. A prominent sign hanging by the door — "It's so good to be home" sums up a near decade of perseverance for the 27-year-old Sherburne, New York, resident.
It's her first step toward living independently as a survivor of a traumatic brain injury (TBI) caused by a motor vehicle accident, which left her rebuilding her life — learning how to walk, talk and perform all cognitive functions again.
Viera is thriving these days. She fulfilled her dream of going to college, earning a degree in human services from SUNY Morrisville's Norwich Campus, where she made the Dean's List and won awards. She's also written a book, "Viera Strong: My Struggle With Traumatic Brain Injury."
She took another step on her journey, enrolling in SUNY Morrisville's applied psychology bachelor's degree program for the Fall 2022 semester, pursuing skills toward her impassioned crusade to spread awareness about TBI.
"I want to empower and inspire people," Viera said. "I got a second chance at life and I am going to make the best of it and help other people do the same."
Inside her home, walls bursting with colorful acrylic paintings bring back memories for Viera, a talented artist filled with ambition, vitality and dreams of going to college to become a forensic anthropologist.     
"This has always been one of my favorites," she said pointing to artwork on a wall — of pine trees bending toward the moon.
It's taken on a symbolic meaning for Viera, who has been reaching for the moon ever since the accident, a couple of weeks before she was headed to college at SUNY Oneonta.
While doctors doubted she would regain consciousness or lead a normal life if she did, nothing has stopped Viera.   
"I have always been determined and now I am definitely more determined," she said.
Viera shares her story through ongoing community presentations and volunteer work, hoping her journey will broaden awareness and inspire brain injury survivors.
"They call me a walking miracle," Viera said. "After my accident, there were so many people who helped me and now my life is about empowering others."
Twice a week, Viera volunteers at Compassionate Care in Endicott, New York, helping brain injury survivors improve their lives. They play games. They cook together. And they share frustrations of daily living and struggles of making sense of their new lives as survivors with TBI.
"I want to help people transition to their new being. It is really hard to be okay with that," Viera said. "People with brain injuries can live full and meaningful lives. I encourage them to keep hoping and dreaming."
That's been a motivating force behind her own recovery and rediscovering herself again.
Defying odds and beginning again
Viera doesn't remember the August 2013 accident in which a car slammed into the side of a vehicle where she was a backseat passenger.
Doctors told her family if she lived, they should expect extensive brain damage with significant cognitive and physical challenges, including not being able to walk, talk, eat or breathe on her own. Part of the right side of her skull was removed to relieve pressure caused by her brain injury and she spent three months in the hospital in a coma before going home.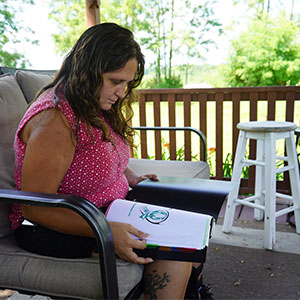 Giving up has never been in the cards for the Viera family. While she was in a coma, her family created a "Viera Strong" Facebook page to update the community on her progress.
Filled with pictures and messages of hope, the page led many to donate to her cause. A benefit, spearheaded by one of her former teachers, helped the family with medical costs.
That support network was a vital piece of her recovery, which was filled with triumphs and challenges.   
Before regaining motor skills, Viera communicated through writing. She used a wheelchair, then a cane before walking on her own.
A "Viera Strong" Facebook post from July 11, 2016, describes one of her victories: "Last year on vacation, we were using a wheelchair for long walks. Today, we climbed a mountain 3.5 miles up and down and explored a cave for another 1.5-mile hike. It was not an easy feat for sure, but we conquered it."
Improvements came through extensive rehabilitation, which included speech, physical and occupational therapy, much of it at Robynwood Enrichment Center, in Oneonta, New York, a structured program for individuals coping with TBI.
Support from doctors, the community and her family fueled her drive and tenacity. Her mother, Ann, left her job to provide around-the-clock care and her father, Paul, remodeled her bedroom to accommodate a wheelchair and other needs throughout her recovery.
"My mom told me to take the words 'giving up' out of my vocabulary," Viera said.
Those words of wisdom carried her through many challenges, among them, attending college.
"Living out the goal I was working so hard for in my recovery was going to college," Viera said.
"It is one of my greatest mental accomplishments." 
She took full advantage of all the support services offered on campus, including using a tutor and note-taker in classes, to achieve academic success despite all of her challenges. 
"She had long-term goals and she was determined to achieve those goals," said Julanne Burton, assistant professor of social science at SUNY Morrisville. "She said she wanted to work with others who had TBI, so she was going to do whatever was necessary to achieve this. We talk about grit in my classroom — that is passion and perseverance for a long-term goal. Certainly, Megan came to college with the grit we're talking about."
Viera flourished in the classroom, where she was an inspiration and role model to fellow classmates. "If Megan can do it, I can do it," a fellow student once told her.
My mom told me to take the words 'giving up' out of my vocabulary.
Megan Viera
Her tenacity heartened faculty, staff and professors, too.
"Megan really taught me to think about the best way to teach all students and how to pay close attention to what each of my students might need from me in the classroom," Burton said. "Some students learn by listening, some by seeing and some by doing.  I had to incorporate all of those aspects in each class all of the time. I still work hard to do that even when I have students who are taking classes virtually."
While earning her associate degree in human services, Viera completed three internships, which solidified her career change from forensic science to helping and bringing hope to others.
That focus led her back to SUNY Morrisville to earn a bachelor's degree, one of many goals she's set for the future. 
"It's baby steps that matter," she said. "I keep telling myself, 'I got this.'"
A new life
Going after things is what has characterized Viera's life, even before the accident.
The gifted artist, who once displayed her work throughout the local area, aspires to paint again, despite having limited use of her left arm and fingers.
"I do daily exercises and there is improvement," she said. "I am determined to get the movement back in my left arm and fingers to paint with both hands again."
Aside from the visible, Viera faces other hurdles. Seizures prevent her from driving and there are lapses of memory.
"It is an invisible injury that not many understand," she said.
Recovery from a brain injury is lifelong with many challenges, including common understanding because difficulties are unnoticeable to the average person and often lead to a stigma, one Viera hopes to lessen through championing awareness.
As she continues to recover and set new goals for herself, Viera looks back at all she has accomplished with pride. 
"You learn to accept the new you. I want others to know that anything is possible," she said. "I wake up every morning to a gift I will always treasure — my life."
March is Brain Injury Awareness Month
What is TBI?
A traumatic brain injury (TBI) is a complex neurological incident where brain function is disrupted due to physical trauma. It is called the "invisible injury" because there are often no visible changes on a person's outside, but those underneath can't be cured, and many times are not understood.
The Brain Injury Association of America (BIAA) reports that at least 3.6 million people sustain a brain injury each year in the United States.