At 97 years old, Richard "Dick" McGuire '42 acts as a living historian.
He's physically spry enough to trudge around in a half foot of snow serving as a tour guide for his 12 museums on his lifelong home of Penope Farms in the rural town of Jackson, N.Y. And he is mentally sharp enough to recollect specific use of 19th and 20th century farm equipment that was critical to the time for food production in America.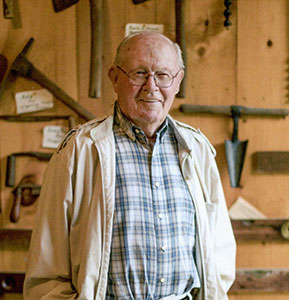 McGuire, who is one of SUNY Morrisville's oldest living alumni, graduated with degrees in animal science and rural engineering. While those programs are no longer still offered, they supplied him with the knowledge and tools for a larger-than-life resume chock full of accomplishments.
Among them are his themed barn museums, where he has preserved the history of agriculture, noting the days of bottled milk, tools like one-handed plows, milking machines, household furnishings and utensils, books and amusements, and cars and sleighs reflecting farm life of yesteryear.    
Meticulously arranged, McGuire labels each item to include the year and description during that time period in his Penope Farm Museum, an exclusive spot visited by thousands every year.  A recent visit to his farm affirms his affinity and passion for farming and agriculture, which grew exponentially through the years and earned him the Distinguished Alumni Award from SUNY Morrisville in 1985.
McGuire's path to Morrisville began, in part, because his uncle had attended the college and it offered classes that interested him. But what ultimately sold him was his love for football, a sport that eventually led to an invitation to try out for the NFL's Philadelphia Eagles. McGuire, declined to tend to the family farm instead. 
That decision was made easier thanks to his home at Morrisville.
"I was very pleased," McGuire said. "The extra-curricular activities that Morrisville provided—prepared me and gave me a lot of the confidence I needed to get involved in social life and off the farm. It shows what a person, after having the experience and education that SUNY Morrisville offers, can accomplish."
McGuire worked on the school farm, from 5-8 a.m. each day, earning $15 per week to pay his meal tickets.
Outside of the classroom, he was a three-sport athlete, playing football, baseball and basketball, eventually going on to play semi-pro basketball for Salem in Washington and Saratoga Counties.
His sites set on attending Cornell University after he graduated, those plans changed with America's entry into World War II.  
"Pearl Harbor happened during my senior year and suddenly the whole thing changed," McGuire recalled. "Dad's hired man was drafted. People joined the Air Force (because the country was looking) to rapidly develop pilots. I had to have permission because I was only 19 years old. Dad said that he had to probably stop farming because he lost his help, so instead I decided to come home to the farm."
Exempt from being drafted into the war due to the farm business, McGuire served that duty in full. 
The following years garnered growth. He expanded the 65-acre farm owned by his grandfather in 1895to 440 acres by 1944. Admittedly, McGuire could not imagine what would be in store for his highly decorated life to come.
It started with a call from then New York State Gov. Mario Cuomo, who offered him the post of Commissioner of Agriculture for New York State. He served there for seven years after serving as President of the New York State Farm Bureau for 14 years.
"Animal science was probably the most important thing that I studied at Morrisville because I learned how to be a farmer and involved in local affairs," McGuire said. "I won the public speaking contest and did a lot of work with agriculture and communications. So, I got involved in all the farm organizations. From there, I became the President of the Farm Bureau." 
During his distinguished career, McGuire implemented agricultural policies with prestigious figures, meeting with four U.S. Presidents, spanning the terms of Richard Nixon, Gerald Ford, Jimmy Carter and Ronald Reagan. 
Other awards he received included being named Outstanding Commissioner of Agriculture by the National Biotech Industry, as well as Distinguished Service to Agriculture by the American Farm Bureau. 
While McGuire admits he had no aspirations set in stone as to what ventures he would take on next, he was always willing to say yes.
"Ninety-seven years," McGuire said. "It took me a long time to get here. It has been an interesting and exciting journey."