Janis Barth, owner and editor of New York Horse Magazine, shares a firsthand story about donating her beloved horse to SUNY Morrisville's equine program.
Sunday morning. The air is crisp with blue-ribbon dreams and the first intercollegiate horse show of the season is ramping up at the SUNY Morrisville Western barn.
The horses are groomed and polished and waiting their turn, including the roan Quarter Horse with number 418 pinned to his saddle pad; the one who was briefly excited when the Morrisville team passed around a box of donuts and he thought one might have his name on it. First up are the reiners, followed by the ranch horses. And then the gate releases for the Open Horsemanship Class and in walks the roan, ears flicked and listening to his rider as if he owns the place. Which of course, in his mind, he does.
Finn.
An overgrown golden retriever of a horse, Finn is the newest four-legged member of Morrisville's equine studies faculty. Not long before that, he was mine — a good soul in need of a new career and a happy ending. The answer to what his second act might be came unexpectedly. One day I walked into the barn, said hello to my trainer, and was greeted with six life-changing words: Have you thought about donating him?
Every horse we own has such an important role.
Julie Corey
So it is that this is a morning, too, of new beginnings. Finn nails every transition, downshifts smoothly from lope to jog, and does not stop mid-circle because he thought he'd worked hard enough and deserved a rest. His rider, Morrisville student Victoria Epstein, takes second place and goes on to be one of the day's high point riders.
When her class is done, Epstein walks over, asking "Are you Finn's old owner?"
"Yes," I replied.
"I just wanted to thank you for donating him to the program," she said, explaining that he is one of the horses she cares for as part of her Western studies. "I love him. We all love him."
Epstein smiles. I wipe away the joyful tears from my eyes. Finn checks everyone's pockets for hidden carrots. He is home.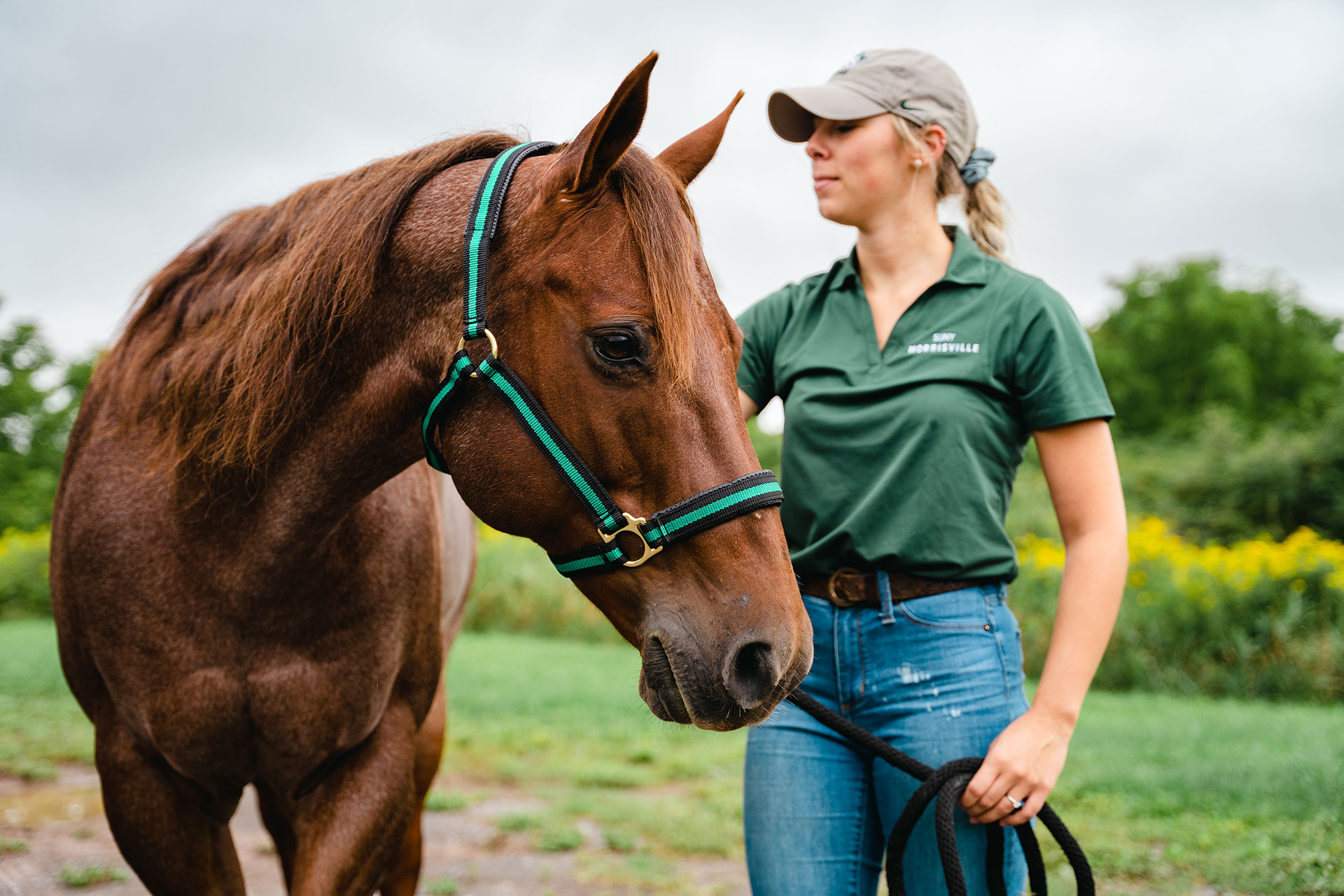 In the end, it was an easy decision. Donating Finn is an investment in education, in the next generation of equestrians and, more broadly, the future of the equine industry.
"We're always in need," said Julie Corey, assistant professor of equine science and a coach of the college's Intercollegiate Horse Show Association (IHSA) Western team. "Without these horses we don't have a program ... I lose sleep over it.
"Every horse we own has such an important role."
Morrisville looks for donations in three broad categories: lesson horses; young stock for their breaking and training students; and show-quality horses, primarily seasoned reiners and all-around types for whom the show pen is a second home. "They've been there, done that, and are ready to teach our upper-level students how to show," Corey said.
Finn is a lesson horse, ridden every day except weekends, and used in IHSA practice and shows. In his second year, as the upper-level students help him grow into a horse for every student's stage of experience, he is finding his niche.
"These horses have to be able to teach the beginner rider. They have to give them confidence and they have to be very forgiving of the rider as they're learning," Corey said. "They're the unicorns. They're the hardest to find because no one wants to part with them."
Parting with Finn, to be honest, was not easy. The unexpected piece was how simple and smooth Morrisville made the process. Every donation begins with contacting one of the human faculty members. The four instructors in the Western barn discuss the strengths and weaknesses, and it's standard for the horse to have a two-week tryout to see if they're a good fit for the program.
If they are, Theresa Kevorkian, vice president for Institutional Advancement, reaches out to the donor and walks them through the donation contract. A horse valued at more than $5,000 must go through an appraisal, but otherwise it's a one-step process to sign.
"Gifts from alumni and friends allow academic programs at Morrisville to excel in providing students the hands-on, applied learning opportunities they need," she said. "Gifts to student support programming mean that we can meet every student where they are in their academic journey and provide the support and resources they need to find success."
Kevorkian, responsible for overseeing all aspects of the college's fundraising, works with individual donors to craft contributions that meet both the needs of the college and the wishes and priorities of each benefactor. All gifts – scholarships, endowments, special roan horses named Finn -- have a significant impact on the life and education of Morrisville students, "preparing them to launch into the workforce and make a difference in their communities."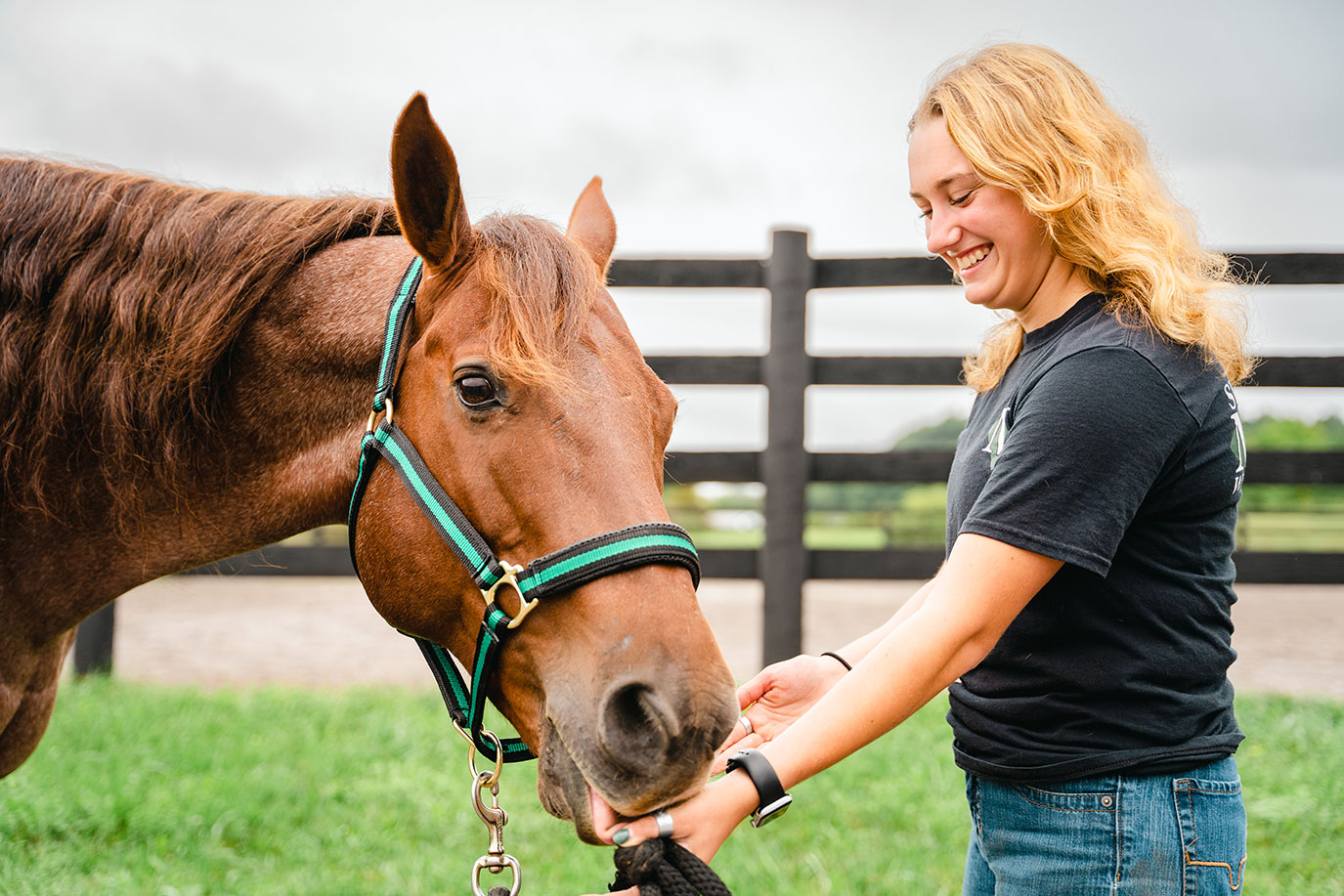 The equine program, a premier curriculum now in its 54th year, has a 99% placement rate after graduation. Knowing that Finn will play a small role in that success, that he is cared for and will have a useful life with students who love and learn from him, is both salve and source of pride.
Spin the dial nine months and it's an early September morning fresh with the ambitions of a new semester. In the Western barn, Epstein, now a senior, leans forward in the saddle, rests her hands on the horn and considers life after college.
She wants to be a horse trainer. Finn, she said, helped her see that was the right path.
"A lot of lesson horses are point and shoot. Finn would tell on you — if you gave him an inch, he took a mile," said Epstein, whose hometown is Liberty, New York. "He helped me find my patience. He gave me something to work toward … He made me sit there and think about what I wanted to do with my life.
"Everybody loves him."
And so, yes, he is home. Nickering at the kids from his stall in the lesson barn; still refusing to pick up the right lead lope unless he's asked exactly so; ever optimistic that there is a treat lurking somewhere nearby.
If it is not the original happy ending — that would be the one where we ride off into the sunset together — it is the right one for this good horse, and for all the Morrisville students he will carry into their future.
If you are interested in donating a horse, or would like more information about the process, contact Julie Corey at coreyja@morrisville.edu.