Staring down into the crystal-clear waters of the Caribbean Ocean, Lilo Starr came across a breathtaking sight.
While snorkeling off Eleuthera Island in the Bahamas, Starr observed a magnificent display of multicolored fish just a few feet below them. The beautiful underwater scene captivated the 19-year-old SUNY Morrisville sophomore from Pearl River, New York.
"I looked out and there were so many fish, I felt like I couldn't breathe but in a good way," Starr said. "That excitement of seeing the deep vast ocean in front of you and swimming through a school of fish just blows your mind. It's unreal."
Starr's snorkel expedition to the Bahamas wasn't for spring break or for a getaway vacation. It was among the many aquaculture experiences they and 12 other SUNY Morrisville students shared while taking a new field-based course at Morrisville: Tropical Ecology of the Bahamas.
The course, developed and introduced to the curriculum last year by Morrisville Assistant Professor Jessica Sarauer, actively engages students with the wildlife, agriculture, fisheries and unique ecosystems of the Caribbean tropics. The course also focuses on comprehensive insight into tropical ecology and conservation concepts and case studies of conservation biology.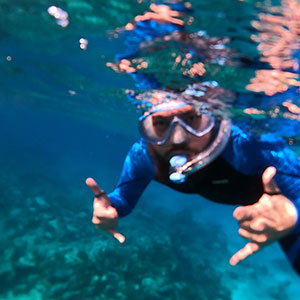 Elisa Livengood, associate professor of environmental & natural resources, planned and began researching the logistics for a field-based tropical ecology course two years ago. Livengood and Sarauer put together a proposal after taking multiple trips to Eleuthera Island to scope out sites that would be most beneficial for their students. The first-of-its-kind course was added to the curriculum in 2022.
"The purpose of the trip is to give our students the opportunity to have a field-based learning experience in a place that would expose them to ecosystems and cultures that they would not normally see in Central New York," Livengood said.
The eight-day trip to Eleuthera Island featured field excursions and tours to places relevant to the class, where they learned about the ecology of the island including species identification of fish, corals, invertebrates, algae, plants and unique cave environments. Visits included Hatchet Bay Cave, the Glass Window Bridge, Preachers Cave, Seahorse Park, Leon Levy Plant Preserve, the One Eleuthera Centre for Training and Innovation (CTI) for a greenhouse production tour and snorkeling to learn about fish and corals.
The Morrisville contingent stayed in Governor's Harbor, which gave them access to both the Caribbean and Atlantic sides of the island. Professor William Snyder joined Livengood and Sarauer on the trip.
For 20-year-old sophomore Abby VandeWalker, the course reinforced her career goal of becoming a marine conservationist. It also offered her an opportunity to travel outside the United States for the first time.
"The trip made me very sure of what I want to do professionally," said VandeWalker, a natural resources conservation major from Johnstown, New York. "I want to take all this information and everything I've learned here and apply it for the rest of my life."
Snorkeling, which was VandeWalker's favorite part of the trip, helped her appreciate the aquatic splendor she would have otherwise never seen. 
"The ocean is literally a whole other world," she said. "You could see almost every color down there. They were so bright and it was so beautiful. I'd never seen anything like it. Pictures in a book don't do it justice. It was incredible."
The trip made me very sure of what I want to do professionally. I want to take all this information and everything I've learned here and apply it for the rest of my life.
Abby VandeWalker
Eleuthera, which divides the Atlantic Ocean and Gulf, is known for its diverse habitats and wide array of terrestrial and marine environments, as well as its pink-sand beaches, dramatic cliffs and sheltered coves.
In addition to the tropical ecology course in the Bahamas, Livengood and Sarauer also teach Tropical Ecology of the Florida Everglades. In March, eight students — including three who went to the Bahamas — spent spring break studying south Florida ecosystems including the Everglades, Corkscrew Swamp, Big Cypress Bend National Preserve and John Pennekamp Coral Reef State Park.
For Livengood, seeing her students revel in discovering new ecosystems in a different part of the world made all her efforts worthwhile. Exposing students to aquaculture outside of Central New York including the slow but real effects of global warming on coral and other marine life was an integral part of the course.
"I've spent much of the time just watching my students' reactions to their experiences," she said. "It was definitely very healing for me to see all the effort pay off. The students were having a great time. To see that student engagement reinforced how much it was worth it."  
Starr was among students who were in awe of the tropical paradise that served as their classroom.
"It was gorgeous," Starr said. "You saw all these cool things. We saw octopus, puffer fish. I was like a little kid at that, looking down at the water. We got to see some huge stingrays and a shark at one point. I was so happy to be there. The fish were my favorite part." 
Students in Tropical Ecology II were a mix of horticulture, natural resources conservation and aquaculture majors. Despite the broad range of studies, Livengood incorporated sites and tours specifically related to each student's respective majors.
"We tried to meet all the students' different majors and different interests," Livengood said.
Hunter White, an environmental and natural resource management bachelor's degree major, jumped at the chance to see an ecosystem that was different from what he studies in Central New York. White absorbed valuable information on the trip that's related to his desired career of becoming an environmental conservation officer or game warden.
"This was a class I didn't need to take, but it was a chance to learn other things," said White, of Truxton, New York. "We learned about the marine life down there and what steps are needed for the conservation status of the spiny lobster. That played into my studies because it's related to how many fish you can take out of the ecosystem at once."
Ethan Fitzgerald used the trip and the course to broaden his education while he pursues his dream of becoming a game warden in Alaska.
"I like to experience new things and seeing a different climate and region," said Fitzgerald, of Constableville, New York. "This trip made me more aware of what else is out there and what I could be doing in different parts of the world. It made me realize the path I want to go down. The trip showed me some new things I could be doing."
For Starr, traveling to the Bahamas was a magical journey that solidified their decision to switch majors from computer science to aquaculture & aquatic science and eventually pursue a master's degree in the field of marine biology.
The trip also brought to light the growing environmental threat Eleuthera Island faces with global warming. Starr hopes to change that in their lifetime.
"This is something I want to do the rest of my life," Starr said. "This (trip) was definitely worth the opportunity and I'm so grateful we got to go.
"I really want to study sea creatures and how they are being affected by global warming. This is our planet. This is something I want to protect," they said.