As a child, Tweh Johnson would often get in trouble for the numerous science experiments he concocted through his wild imagination.
While they didn't always go as planned, they all played a role in helping him discover his insatiable thirst for knowledge.
That same inquisitiveness has now led him to a degree in the field of his dreams, thanks to SUNY Morrisville.
Johnson, a native of Staten Island, New York, is set to graduate this December with a Bachelor of Business Administration degree in agricultural business development and a cannabis industry minor. The minor, one of the first of its kind in New York State, provides students a vast understanding of the cannabis industry by combining portions of the college's agricultural science, horticulture and business programs. Hemp plants, which are very similar to the marijuana plant but lack the levels of THC that cause psychoactive effects, are used in the curriculum to study cultivation techniques.
The program was the catalyst for Johnson's research project completed during his 15-credit capstone internship with the college's Horticulture Department this summer (Fun fact: 95 percent of the college's baccalaureate students fulfill an internship prior to graduation).
Taking full advantage of the 11,368-square-foot greenhouse at SUNY Morrisville's George A. Spader Horticulture Center, Johnson examined the effect of fertilizer on cannabis growth during an eight-week period this past summer.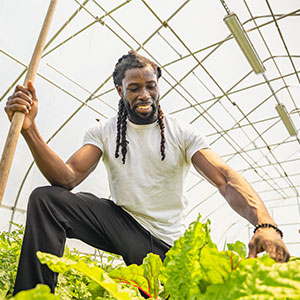 There, he studied 51 potted berry blossom hemp plants placed either inside (30 plants) or directly outside (21) using two test groups — one with organic fertilizer and the other with inorganic fertilizer — along with a control group containing no fertilizer.
With all receiving identical treatment, each week Johnson documented the height and width of each plant to the tenth of an inch, as well as any color changes or other phenotypical differences within the plant.
Naturally, Johnson came up with the experiment on his own.
"I've loved science since I was a kid," Johnson said. "I grew up watching nature with my father. I'm always doing my own experiments and it's just stuck with me."
When the study concluded that the plants with organic fertilizer yielded the best response, it was much to the delight of Johnson, an advocate of all things organic. It also was further confirmation that he was pursuing his passion, and this time around, he faced no repercussions for his study.
"Coming to SUNY Morrisville was one of the best decisions I've ever made," Johnson said.
Johnson arrived at SUNY Morrisville as a nontraditional student in 2019, drawn in by the availability of his degree of interest and the opportunity to join the college's football team as a student-assistant coach (Another fun fact: Johnson helped guide the Mustangs to the Clayton Chapman Bowl Championship game that season).
Coming to SUNY Morrisville was one of the best decisions I've ever made.
Tweh Johnson
Another draw: Family and community — two important pillars in Johnson's life — were both evident as part of the Morrisville culture as soon as he arrived on campus.
"We're a family here," he said. "I'm learning every day. People here are very patient and very willing to teach me."
One such person is Sheila Marshman, associate professor of agricultural business development (and this magazine edition's cover story!), whom Johnson often sought advice from. Turns out, Johnson has had a lasting impact on Marshman as well.
"Tweh Johnson is a gem," Marshman said. "He is goal-oriented, has excellent interpersonal skills and he always brought these skills to group projects and class discussions. I am looking forward to staying in touch with Tweh for years to come."
Johnson landed his internship — which also included assisting with growing and harvesting crops at the college's certified organic Four Seasons Farm — with the help of Morrisville's Collegiate Science and Technology Entry Program (CSTEP). He credits CSTEP and its resources and support as a major factor in completing his degree.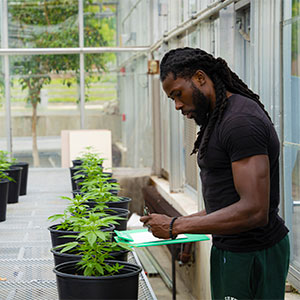 "I want to thank them personally," he said of the CSTEP staff. "They would check in to see how I was doing with my grades and my goals. I appreciate CSTEP; it's one of the best programs here."
The difference such support can make has never been lost on Johnson. Back home, he has volunteered at a seasonal youth sports camp at Central Park since 2010, teaching football, basketball and track.
Nurture is in his nature, guided by the examples set by his mother and her ongoing philanthropic work, and proudly being named after his grandfather, who served as a reverend and community activist in Liberia for 70 years.
His own recent trip to Liberia, the birthplace of his parents, continued to shape Johnson's desire to help others. "To see how good we have it here, and to see kids go crazy over the simplest things that we just throw away, why not give back to people while I can, while I'm healthy, while I'm alive?" he said.
Johnson now plans to use the academic and practical knowledge gained from his degree to pursue a career in holistic health. It's a journey many of his family members also are on and where he draws his inspiration from, as his father serves as a public health advisor, two of his three brothers are CEOs of health-related organizations, and his mother and two sisters all have nursing backgrounds.
"I'm into nature and holistic health, and the more I started becoming a healthier person, I figured (growing plants) was tied to it," said Johnson, who meditates three times a week to help provide clarity and focus. "I like to see how things connect holistically, so this was one of the lanes I can enter to expand and magnify anything else I'm doing."
Seeing food as a main source of medicine — "eat good, feel good" — Johnson plans to grow his business endeavor focused on the distribution and sale of a variety of "super juices" and healthy food choices.
"I believe in eating food that's full of life," he said. "The healthy foods I eat, I want to practice what I preach and promote it."
His busy schedule certainly puts that practice to the test at times, but Johnson wouldn't want it any other way.
"I get home tired and I feel good, I feel accomplished," he said. "I don't feel right sitting around all day. There's too much to be done."